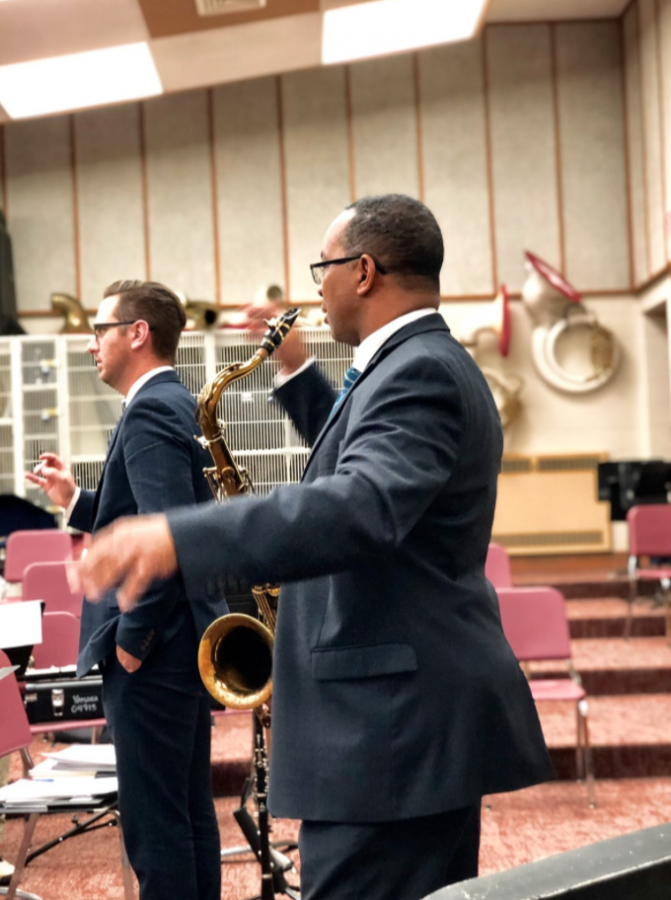 Rohan Shah
Victor Goines, a world-renowned saxophonist, clarinetist, composer, and educator, visited Middleton High School on November 12.
Goines is a member of the Jazz at Lincoln Center Orchestra with Wynton Marsalis, and the director of jazz studies at Northwestern University. Born in New Orleans in 1961, Goines began studying jazz at the age of eight. Goines continues to study the art of jazz and has constructed an impressive resume. Goines began in 2000 as the artistic director of the jazz studies at Julliard School of Music. In 2007, he was appointed to his position at Northwestern University.
Goines has performed and recorded with famed artists such as Ray Charles, B.B. King, Dizzy Gillespie, Stevie Wonder, Ahmad Jamal, Freddie Hubbard, Eric Clapton, Lenny Kravitz, and Freddie Green.
Goines brought his vast musical experience and knowledge to the jazz students of MHS.
While at MHS, he instructed a masterclass, worked with the 7:00 Jazz Band, and taught private lessons.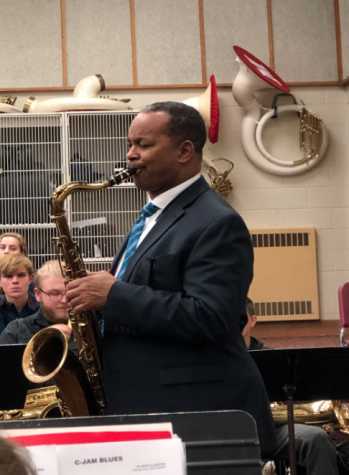 Students at MHS marveled at Goines's technical skill on the clarinet and saxophone; however, it was his humble presence that truly made an impression. MHS junior, and saxophonist, Jonathan Downs, explains, "It was a pretty unique occasion because it's not every day that you have one of the best musicians in the world come and work with you."
While rehearsing "Sophisticated Lady" by Duke Ellington, the 7:00 Jazz Band received a once-in-a-lifetime experience.
During the rehearsal, a trumpet part did not fit together. So Goines, rather than try to force a solution, admitted that he did not know how the section was supposed to read. He promptly pulled out his phone, called the world-famous trumpet player, Wynton Marsalis, and placed him on speaker phone.
Downs explains, "I didn't think he would pick up, but I started hearing the iPhone ring, and then Wynton said 'hello' and I said to myself 'Oh my gosh. What's happening.'"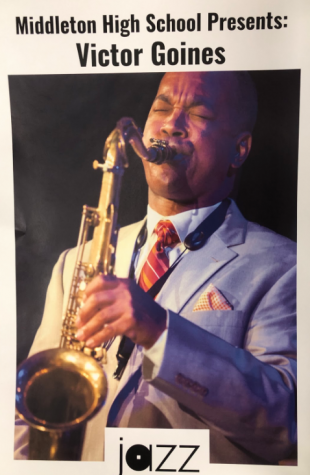 Marsalis, who had performed "Sophisticated Lady" an innumerable number of times, quickly assessed the situation and worked with Goines to resolve the complication.
Throughout his visit, Goines stressed the importance of practicing as a musician. In an interview with The Cardinal Chronicle, Goines stated, "Practice as much as you can now . . . because you'll never have as much time in your life than you have right now."
Downs' largest musical takeaway from Goines was "that through practice, dedication, and belief, you can truly accomplish things in the context of music."
During Goines' visit, students were encouraged not only to play their instrument but to connect the art form of music to their daily lives.
He said that the three most significant characteristics of a successful band are "camaraderie, humanity, and respect." These words highlight Goines' notion that a band is a microcosm of life and his emphasis on an association between music and life.
"Maximize the time that you have to prepare for whatever you want to do," Goines encouraged. "If it's music, the sciences, art, or whatever it's going to be, this is your time to prepare the foundation of what you're going to do."