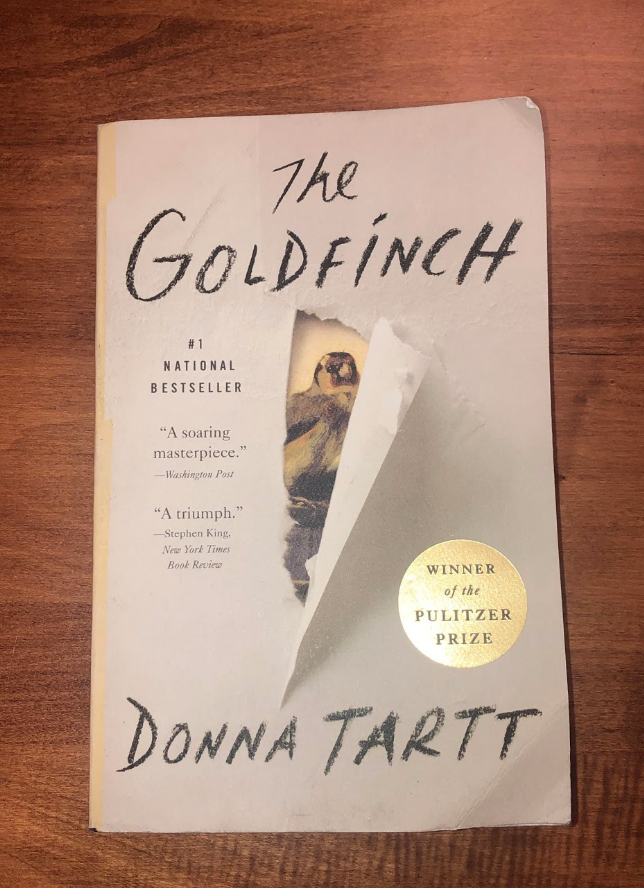 Syd Smith
Grief is not a simple thing to convey, and it's not a simple emotion. The Goldfinch by Donna Tartt focuses on grief as a central theme along with adolescence and companionship, and has been hailed a modern classic. The complexity exhibited in this novel is not easily summed (and wasn't, seeing as the story spread through 784 pages), and it's rare to see complex stories in writing translate itself to another media. The film adaptation premiered on September 13 of this year, and critics haven't been kind. However, many believe the slew of degrading reviews against John Crawley's film adaptation aren't entirely warranted. Film critique powerhouse Rotten Tomatoes has given the 2019 iteration of the Pulitzer Prize-winning novel a score of just 25%, and iconic film reviewing site RogerEbert.com gave the movie one and a half stars. 
Despite this negative press, the movie has impactful moments and should be given a second chance for its worthiness and value. The storyline was simplified into the most important and powerful moments, and the cinematography and casting worked well with the grimy adolescent story. 
First, just the idea of adapting this giant novel into a movie is a great feat. A piece of media that has won an award, such as the Pulitzer Prize, is not going to lend itself well to simplification, and Crowley made a valiant effort in even attempting to tell this story within three hours. Tartt's novel covered many topics, such as drug addiction, childhood grief, romantic confusion, and recovering from severe trauma. This is a difficult story to whittle down, and Crowley did the best he could. Focusing on only the most vital plot points, he details the accident that left Theo Decker's mother dead, his move to Las Vegas to live with his father, his move back to New York and entrance into the antiques business along with his relationship with fellow troubled teen Boris Pavlikovsky, and drug abuse. This is the version of The Goldfinch that the director wishes to tell, a story of whiplash and confusion, of a lack of normalcy and comfort. Theo's life wasn't simple in any way, and he was constantly in a state of turmoil.
Though the "5 stages of grief" are often referenced, there really is no such thing as a regular grieving process. This piece mimics that and throws it back into the audience's face in defiance. This further frustrates us, just as Theo felt when his life unraveled at the young age of 13. Though the story wasn't this film's strongest point, we must have a little perspective and consider the merits it has.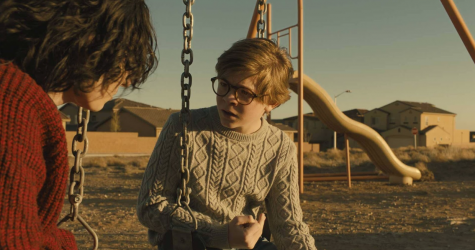 The cinematography and casting lent itself well to the melancholic coming-of-age story. A taupe landscape along with pale, starved performances by Wolfhard and Fegley as young Boris and Theo convey the desperation and anxiety Theo is filled with upon his journey back and forth across the country. Wolfhard is most known for his role in Netflix's breakout series Stranger Things, and Fegley's last role was in the 2017 adaptation of Brian Selznick's novel Wonderstruck. For such young actors and such heavy plot material, they manage to convey the emotions of these two troubled individuals in a dedicated, gentle manner. Also, Ansel Elgort and Aneurin Barnard's performances as adult Theo and Boris shined despite the less than stellar plot. They easily conveyed the hunger for companionship and normalcy. 
Though the plot moves at a slower pace, the stunning visuals of both metropolitan New York City and desolate Las Vegas mimic Theo's inner turmoil and distract from the less than perfect story. The entire color palette of this movie is reminiscent of both cities in that it is drab in appearance, yet still with life lurking underneath. The opulence of Theo's temporary home with the high-society Barbour family is excellently juxtaposed with the grim landscape of empty houses in Las Vegas. If audiences found the story wan and unappealing, they could at least give the design and cinematography team their laurels for creating a lush atmosphere to carry the weight of the film. 
Many may say that this adaptation shouldn't have even been attempted. One could even argue that revered stories should stay in their original form of media. But if we never try to push the boundaries of storytelling and find new ways to visualize writing, we won't be able to evolve our skills and broaden our creative horizons. 
Though this story is not simple in any way, director John Crowley valiantly fought for the most vital and emotional plot points to support this film, along with a solid aesthetic that is constant throughout the entire film. Also, strong performances from Wolfhard, Fegley, Elgort, and Barnard help to solidify and center the emotional story. So, was this adaptation flawless? No. But has it inspired many to write and to create and to think deeply? Yes, and that is the point of any form of art.