MHS Set to Begin Construction on New Campus Next Month
In 2023, as this year's sophomore class prepares to graduate, a new era of Middleton high schoolers will set foot onto the redesigned MCPASD High School Campus. The $138.9 million project, approved by a referendum in November 2018, will span two years and combine the Middleton High School and Clark Street Community School (CSCS) campuses into one.
A highly anticipated project since its initial conception in 2016, groundbreaking on the new building is set to take place next month. 
The project will unfold in two phases. The first, spanning from April to August 2020, will occur on the north end of the school, near the Performing Arts Center (PAC). On this end of the building, the PAC will be remodeled, new areas—such as a black box theater—will be constructed, and a second-story addition will be made. Building in this area is planned to extend northwards to what is now CSCS, allowing students greater access to the underutilized parking lot on Clark Street. CSCS will be physically incorporated into the new building, hence the name change to the MCPASD High School campus.
The final phase of the project will tear down the oldest parts of MHS, from Student Services to the World Language department. The second phase includes remodeling and new construction, including a second story over the Library and Media Center (LMC). Culminating construction on the MCPASD High School Campus, these additions will be ready for the 2022-2023 school year.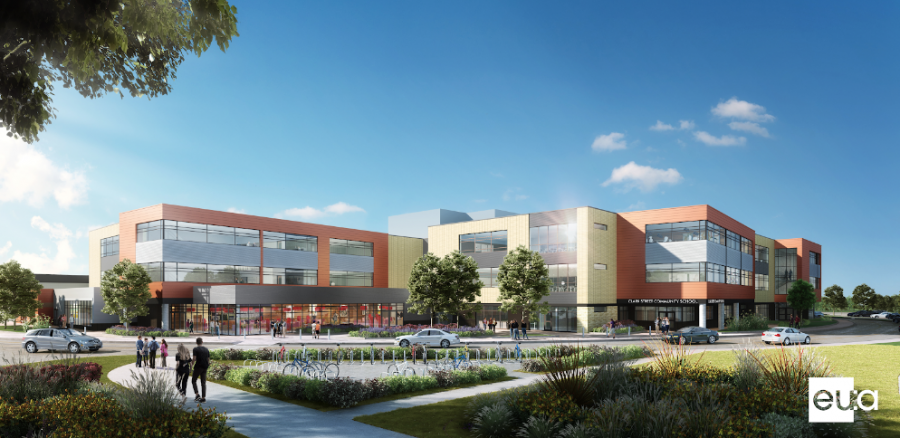 While most of the student population will see the effects of new construction beginning this fall, staff members and a select group of students have been involved in the project for years. According to Laura Love, Director of Secondary Education, in the fall of 2018, students and staff were included on a visioning team, traveling to schools throughout Wisconsin and Illinois to observe and input on design elements.
"The visioning team's purpose was to explore the possibilities for the new facility by looking at other schools of similar size and redesign and to respond to ideas from the architectural team," says Love. "Collectively, they created a 'vision' for the new high school campus."
There have been regular meetings with teachers gathering input on classroom design, starting as early as February 2019.
"Once the architects drafted the design of the building, we held interview and feedback sessions with nearly 90 staff members in February and again in May," says Love.
Staff engagement sessions responded to architectural drafts, and included detailed feedback on specifics of working, teaching, and learning spaces in specific content areas.
Student services, health services, and administrative staff have also had input on their own work areas. All staff members provided input into interior design and furniture selection.
Currently, staff members continue to test furniture, and both staff and students are involved in a High School Study and Redesign team. This team studies community organizations and schools to give input into the redesign of teaching and learning in the new high school. As construction is set to begin next month, the district hopes to keep staff and students—the people most affected by the changes to MHS—involved in design throughout.