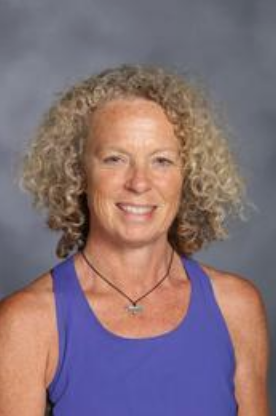 Abby Gessler
A small village in West Africa is about as far as you can get from Middleton, Wisconsin. But that's where MHS French teacher Stephanie Bartholomew's teaching career began.
Bartholomew recently announced her retirement from teaching at the end of the 2019-2020 school year, capping off a career in education that lasted over 20 years. She's not done teaching, though—not by a long shot. She has applied for a job working with the Peace Corps, an organization that sends volunteers to countries around the world to work to solve global problems. This is not the first time she's done that, either: it's just one piece of a career that has traversed three countries (so far!) and thousands of miles along the way.
Bartholomew worked in France for a while right out of college, before transferring to a job in her hometown of Evanston, IL. Teaching wasn't even on her radar yet. 
"I thought I was going to be an international businesswoman," she said with a smile. A combination of factors, however, ultimately left her feeling unfilled in her career choice. Tired of being stuck in a cubicle, she applied to both graduate school to become a teacher and the Peace Corps—two decisions that would end up altering both her career path and her life forever.
Accepted into both programs, she completed a semester of graduate school, followed by three months of training with 27 other volunteers. She then headed to Niger, in West Africa, for an entire year. Her official job was to work in the "Non-Formal Education/Women in the Developing World" sector, helping women and girls to have an easier and better life.
"What I found fulfilling," she says, "was having a literacy class for the girls in my village. I wasn't the teacher, because it's important that your job be sustainable after you leave, but it was incredible to be a part of." 
The local schools had essentially no government funding, and very low attendance, which matches the rest of Niger, a country with a literacy rate of around 15%, according to Bartholomew. There are too many other tasks, especially for girls, like gathering water, growing food, cooking, and caring for the children.
When asked about the biggest lesson of her Peace Corps experience, she said, "Simplicity of life, and not wanting things . . . " 
Life in Niger was simple, and she lived in a village in which people survived off the food they were able to grow. For example, she was overwhelmed by something most of us find mundane: the grocery store. 
"Nobody needs a whole aisle of salad dressing or a whole aisle of chip options," she said.
After her year was up, Bartholomew switched worlds to come back to the United States, finish graduate school, and start a family. What Niger taught her stayed with her, and she had a newfound respect for education. She brought that with her when she came to work at Middleton—the only school she's ever worked for. She explained that she is continuously struck by the quality of Middleton's teachers and the importance of education in this entire community. This is where she has been, for the better part of twenty years: teaching not only French but global citizenship to countless classes of high school students, using her schooling and experiences as a guide.
So, where does she hope to go to the Peace Corps after her retirement from Middleton? She researched and watched job postings for a year before finally settling on Rwanda, a country whose society has always intrigued her. Rwanda is changing its school system from teaching in French to teaching in English, and they need instructors to assist the teachers in learning this new system. She'd go through the rigorous three-month training again, learning the local language, before heading to Rwanda. Although it was a bit earlier than she wanted to leave, it couldn't have been more perfect, and Bartholomew decided to go for it. 
"I feel like I have to do this now before I get any older," she laughs.
If she does not get the position, there are countless other options around the globe. It is safe to say that wherever she ends up, she'll continue working to help, teach, and connect people around the world. And that, as she affirmed about her literacy class in Niger, is a beautiful thing.