Boys Track Wins Sixth Consecutive Conference Meet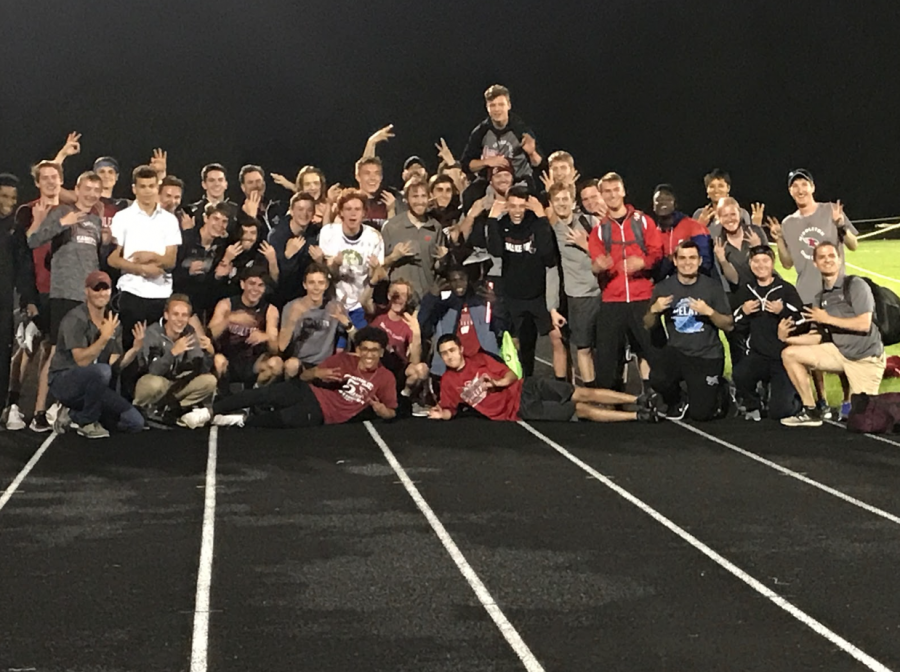 On Monday, May 14th, the Middleton Cardinals boys Track and Field team scored big points across the board to clinch another Big 8 Conference win with a team score of 150.66. The victory marks the sixth consecutive year the team has held the title. They were followed up by Sun Prairie (111) and Verona (83.33)
Joseph Line, who lead the team as head coach for the third year, attributed their success to staying injury free. "I think this is the healthiest we have ever been. My goal at the beginning of the season was not to overtrain and be healthy for the past season. The guys are putting in a lot of effort and rarely do we have guys drop out of workouts because they are too tired or injured."
Line also pointed out some critical individual performances that contributed to the win, especially Aaron Richardson. An MHS senior, Richardson took the individual title in the 100-meter dash, 200-meter dash, and long jump competitions to net a total of 30 points for Middleton, contributing a fifth of overall points. " Aaron Richardson winning three events was a big deal," Line said.
He also mentioned the team's unexpected victory in the 400-meter by junior Eagan Peters-Michaud. "Watching Eagan Peters-Michaud win the 400 from lane nine was something you do not see too much of.  The nice thing is that he worked hard to practice going out hard from that lane and he did it perfectly during the meet. That was ten points we were not expecting to get."
The distance team scored 69 out of 82 possible points to help lead the team to victory. Distance Coach Brian Finnel attributed it to their preparation coming into the meet. "The guys put in so much time and energy into this sport during the off-season and season to make things like this happen. I'm super proud of all the work that they have done, and I know they will continue to see dividends," Finnel said. He added, "It's pretty special to win a conference title in the Big 8, but six in a row is a testament to the continued work ethic of our athletes."
Finnel credited out junior Caleb Easton for his performance.
"Caleb Easton, I thought, had a stellar night and stepped it up. He had a season best in the 1600 with a 4:22," Finnel said. Easton and senior Sam Jaeger finished first and second respectively in the 1600-meter  run. Easton went on to finish 2nd in the 800-meter run, and Jaeger finished 2nd in the 3200-meter race. Senior Jack Rader, placed first, to win the title of conference champion in the 3200-meter run.
The Middleton girls team placed third, with 100 points behind Madison Memorial (142.5) and first place Sun Prairie (173.5).
Sophomore Sitori Tanin lead the team in individual points (17), with a third-place finish in the 100-meter hurdles, a fourth-place finish in the high jump, and sixth-place finishes in both the 300-meter hurdles and triple jump.
Another contributor to the Cardinals was senior Jennifer McGinnis. McGinnis finished second in the 200m dash and third in the triple jump.
The girl's team also placed well in relays, finishing second in the 4×800 and 4×400 as well as third in the 4×200. Relays accounted for 26 of the team's overall score. Other noteworthy performances included senior, Marie Mayers (300-meter hurdles), and junior, Hadley Braaten (400-meter dash).