Post-Referendum Plans for MCPASD
On Tuesday, November 6, nearly 70% of voters in the Middleton-Cross Plains Area School District voted to approve two school referendums that were on the ballot, according to Channel 3000.
The first referendum asked voters to approve a $138.9 million project to renovate or rebuild multiple schools in the district. This includes constructing a new elementary school adjacent to Pope Farm Park, renovating Park Elementary School, tearing down and rebuilding part of Middleton High School, and repurposing the Clark Street Community School building as an Early Learning Center.
The second ballot question asked that the Middleton-Cross Plains Area School District be allowed to exceed the legal spending limit by $4.8 million over the next few years for staffing costs and other operational expenses that come with all of the renovations.
So, what does this mean for current Middleton High School students? The short answer is: for the next year, not much. "It's going to be a long journey," Dr. Stephen Plank, MHS principal, said in an interview. "For the next year, the project will be in design phase. And then it will take minimally two years to build. So, if you are a sophomore, junior, or senior right now, you really won't experience that [new building]."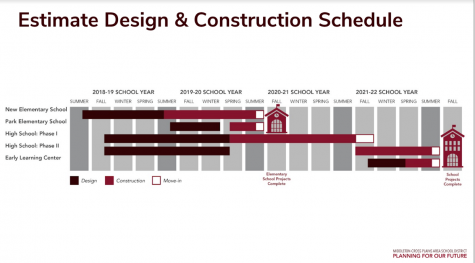 However, starting in the fall of the 2021-2022 school year, MHS students will begin the process of moving into a new high school. "The end result will be a school that will accommodate roughly 3,000 students," Plank said. "And it will be here, on this site, and the goal is to make the school effective, efficient, [and] accommodating, so that – unless you really want to – you don't have to eat lunch on the floor."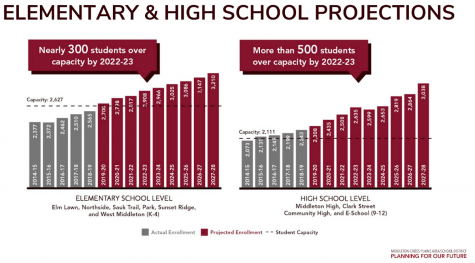 Three thousand students was chosen as the capacity number because the MCPASD high schools are projected to have around 3,028 students by 2027. The projections are based on three demographic tools that the school district utilizes to analyze population trends: an urban planner who applies demographic statistics, such as birth rates, rate of housing sales, average household index of kids, etc. to predict growth; the Applied Population Lab at UW-Madison that provides schools with an enrollment trend based on birth rates; and an in-house analysis by a district group that uses past data to predict such things as how much class enrollment will increase from Grade 8 to Grade 9 due to the addition of private school kids and how much a first-grade class is expected to grow by the time they reach high school. These tools can accurately predict school population growth for about a ten-year period.
"By the time the building opens, you're halfway into that ten-year window, and so . . . you can't really overbuild. That would seem to be not fiscally responsible to the community that's paying for it – and yet, you don't want to necessarily under-build," Plank said. "There's also a belief out there that school is going to look different ten years from now.  It already looks different than it did ten years ago, and one of those big question marks is: will you actually spend a whole day here? . . . If we build for 3,000, even if the enrollment climbs beyond that – if people aren't here all the time, and it's more fluid, than that capacity might last for a lot longer. We don't know that yet, but trying to envision what that might look like would suggest that that's very possible."
The new building will merge Clark Street Community School (CSCS) and Middleton High School into one campus, while the CSCS building will be converted into an Early Learning Center. Of the current high school, only the Performing Arts Center, swimming pool, Varsity Gym, Small Gym, Fieldhouse, and three-story math and science wing will remain. Everything else, including the entire structure south of Student Services, will be demolished.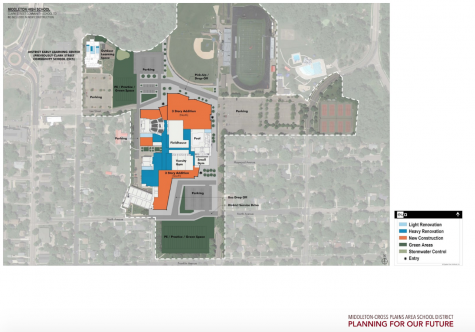 The proposed plan demolishes much of the current high school. The draft may seem drastic to some people, but Plank explained why a major reconstruction, instead of simply another addition, is necessary. "The problem is that when you look at the school, there's sections of this school that were built in 1929," he said. "And because of that, I think we've determined there have been eight additions. There've been lots and lots of renovations, but there've been eight pretty significant additions. And so, every time you do that, you're starting to play around with plumbing, electrical, the HVC – so the heating and the ventilation, the air conditioning – and . . . we can't keep cobbling [those systems] together."
These cobbled-together systems are already causing problems in the high school. Have you ever noticed a funky smell by South Beach? That is caused by the drainage system that was built for a much smaller school with a much lower level of water and sewage production. "We even sometimes have issues when, like, our fire alarm system is pretty sensitive . . . In fact, I think we went all year last year, we never had to run a fire 'drill' because it just went off, like, so many times. And so people don't necessarily know that always, but it's concerning," Plank said. "So, some of those things were what lead to this notion that, you know, unless you start over, mostly it's just going to be a mess. So that's how this idea kind of came to be."
This idea was in large part developed by the Facilities Planning Committee, a group of about 30 community members who wrote the referendum questions for the ballot and proposed them to the school board. After the board approved the referendum questions,, MCPASD sent a High School Visioning Group to visit seven recently-built or renovated schools in the Midwest area. The group included administrators, teachers, and students from both Middleton High School and Clark Street Community School. They tried to answer the question many of you are probably asking: what is the new school going to look like?
During his interview, Plank showed The Cardinal Chronicle an example of a school that the High School Visioning Group visited: New Trier High School. It is located in suburban Illinois in a similar landlocked community, with houses surrounding the high school and little room to expand. They have around 4,000 students, and they are high-performing like Middleton. The architect's rendering of New Trier High School can be seen at the firm's website, https://www.wightco.com/projects/new-trier-high-school-winnetka-campus-facilities-project.
For the MHS reconstruction, the district is working with a new architect: EUA Architects. The firm has already built many schools in the Wisconsin area, like Menasha High School, Franklin High School, and Verona Area High School. They have also built an intermediate school in Waunakee and two elementary schools in Sun Prairie. Plank said that he likes the warm tones and intimate designs of EUA projects, which can be found at their website https://www.eua.com/ under Projects > Learning > View Our Projects > K-12.
With MHS facing the prospect of such a large reconstruction project, many people wonder why the district does not build a second school in the Cross Plains area. In fact, MCPASD had this same debate about building a second high school around 20 years ago.
In 1999-2000, MHS constructed the three-story math, business, and science wing, the Performing Arts Center, and the Fieldhouse. "There was a lot of debate back and forth about 'you should build a second high school,'" Plank said. ". . . I don't really know what fully happened with that, other than at the end of the day, they settled on, 'We're not going to do that, we're going to add onto Middleton High School.' So in some ways, that ship has sort of sailed. And not that you can't go back – it's [just] really hard to go back."
Plank mentioned the two major questions that would make it very difficult to build a second high school: would the two schools be equitable, and could the district maintain the same kind of service to students as they do now? "If you want two schools, two comprehensive high schools to be equitable, it's going to cost big money," Plank said. After all, a second equitable high school would need a Performing Arts Center, a Fieldhouse, a pool, practice fields, a stadium – and land to use. The district determined that building a second high school would cost approximately $170 million, and some predicted that that number could easily approach $200 million.
In addition to being much more expensive, choosing to build a second high school instead of renovating the existing Middleton High School would detract from the things that are celebrated about MHS – the wide range of courses and the amount of opportunity in clubs, sports, and fine arts. The district used Waunakee High School as a comparison – which is not quite half the size of MHS, but hovers around 1600-1800 students – and found that Waunakee offers about 50 fewer courses than MHS. If the Middleton High School population was split into two, we might see a similar decrease in course offerings, along with not being able to run some of the small clubs or activities that we do now.
Students who want to learn more about the impacts of the referendums can visit www.mcpasd.k12.wi.us  and click on the "Planning For Our Future" star icon on the right-hand side. The page includes an overview of the plan and rationale, the exact wording of the referendums, a tax impact calculator, answers to frequently asked questions, related communications documents, and media coverage.
"We hover some really strange line between community and kind of local-based politics and then state and federal level stuff," Plank said. "I mean, the fact that we just went through this midterm election and one of the top three things continues to be the state of public education and how strongly people feel about it – wow. It's an interesting place to be, that's for sure."