MHS Sophomores Simulate U.S. Government in USGP Class
The United States Government and Politics (USGP) class is one of the hallmarks of an MHS student's sophomore year. This semester-long class is a simulation of our nation's governmental system that gives students a hands-on learning experience as to what exactly goes into making ideas into laws.
On December 5th, opening remarks from Committee Hearings director Emily Dickmeyer, President Miles Boswell, Majority leader Celia Hiorns, and Minority leader Gene Kim were heard in the Performing Arts Center. Then the student representatives gathered in the CLC and LMC to debate and amend student-written bills. These spirited debates lasted all day and culminated in a closing ceremony where the results were shared. Fifty bills passed through the student-led committees and 15 will be debated at the final stage of the simulation: Full Session.
USGP has been a critical aspect of the social studies department at MHS for quite some time, but how did this class come to be? I spoke with Steve Arnold, the former sociology and government teacher who designed the curriculum. He said, "I always understood the value of experiential education and being engaged in your learning. I often took my government classes down to the state legislature for visits, and I noticed how much the students gained from this and how engaged and interested they were."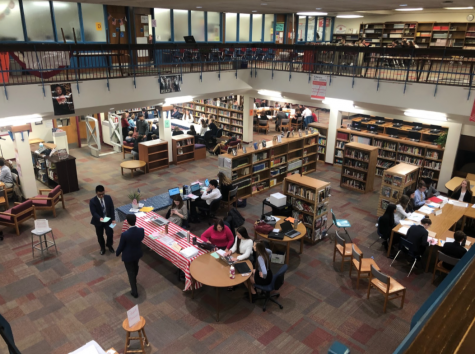 Arnold wanted to give his students an engaging and meaningful experience in his classroom. He started this curriculum and implemented it in his class, but it quickly grew to become a departmental favorite. Arnold explained, "It went from having my four classes in the simulation to five, six, and so on, bringing together the collective talents of not just 20 kids but 90. It adds to the pool of not just students, but teachers and their knowledge."
Arnold stressed the importance of engagement, saying, "I always knew that the kids could be getting more out of school. In the best cases, their interest goes beyond school and onto something more, but with the limited engagement in the standard classes they weren't getting that." Out of his frustration came a praised curriculum. Arnold created the USGP class as a way to increase students engagement and responsibility while also getting an authentic government experience.
Overall, the feedback from this program has been overwhelmingly positive. Many MHS students report that USGP is a highlight of their high school careers. Arnold emphasized the civility incorporated into this curriculum as one of the most important aspects. Our current political climate is incredibly divided, and USGP seeks to mend this divide by encouraging bipartisanship and respect. The ability to debate others with differing beliefs in a non-aggressive manner is key to fostering respectful individuals, and that is what makes this class so important. This curriculum has left its mark on our school, and we can only hope that it continues to inspire individuals to think deeply about the world around them.