New Creamery Opens in Cross Plains
The Cross Plains Creamery opened on January 2nd, located on the first floor of Esser Place on Main Street in Cross Plains. The Creamery is one of the many businesses paving the way towards the "new Cross Plains"- a vision for newer, nicer stores and restaurants.
"I saw the need in my community of Cross Plains for a restaurant and ice cream shop," owner Jason Tank explained. "It is a wonderful family-friendly location on the river . . . and it will fill a niche for hard-pack ice cream and family-style food."
Cross Plains has very few businesses compared to surrounding cities such as Middleton and Spring Green, so the restaurant is being welcomed with open arms.
The Cross Plains Creamery sells sandwiches, soups, breakfast items, and Chocolate Shoppe ice cream. "We will start off with 12 to 14 [ice cream flavors], but by the spring, the goal is to have 48," Tank said. These flavors will include fan-favorites "Bourbon Pecan Pie," "Zanzibar Chocolate," and "This $&@! Just Got Serious," an award-winning salted caramel ice cream flavor with fudge and cashews. They also offer unique sundaes such as "Pink Flamingo Foolery," which is their "Munchie Madness" ice cream (cake batter flavor with fudge, salted caramel, Oreos, M&M's, and peanut butter cups) with hot fudge, cookie dough, whipped cream, and a cherry.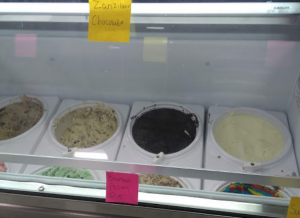 There are various part-time job positions available to high school students at the Creamery. Front-end associates are needed to work as a cashier and scoop ice cream. The Creamery also needs employees to prepare the food products.
The Cross Plains Creamery is hoping to utilize its overlook of the beautiful Black Earth Creek by adding outdoor seating.
"In the spring, we will be adding outdoor seating on our patio," Tank said. Outdoor seating will be available around the time of the Cross Plains Creamery's grand opening celebration on March 4th. "The store officially opens on January 2nd . . . but we thought it would be better to do the grand opening in warmer weather." The grand opening will include a ribbon cutting, discounted prices, and giveaways.
"We hope to see everyone the first week of opening," Tank said. "[We want to] make sure you leave with a smile on your face. Everyone loves good quality food and ice cream, so we will do our best to make sure you are satisfied."
For updates on the Cross Plains Creamery, check out their website at crossplainscreamery.com or visit their Facebook page.