The Best Hot Chocolate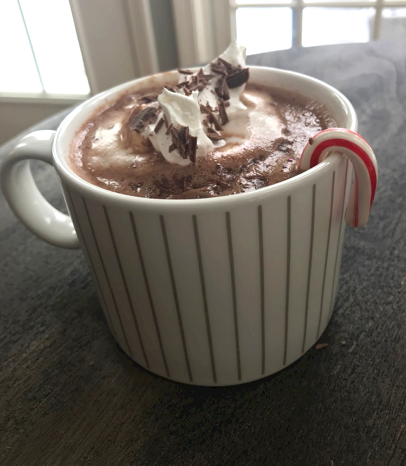 Following a polar vortex, we reflect on what is important in life: warm sugary drinks. This recipe will fill your heart (and your stomach) while you watch the outside world thaw.
The Best Hot Chocolate
Makes 4 servings
Ingredients:
4 cups 1% or 2% Milk
½ cup Heavy Whipping Cream
2 tsp. Unsweetened Cocoa Powder
1 tbsp. Granulated Sugar
1 oz Dark Chocolate (Over 70% Cacao)
1 oz Milk Chocolate (Less than 70% Cacao)
¼ tsp. Cinnamon
Pinch Nutmeg
Optional:
⅛  tsp. Cayenne Pepper
Instructions:
Finely chop dark and milk chocolate into small pieces.

Combine chocolates, cocoa, sugar, cinnamon, and nutmeg into a bowl. This mixture can be stored for months until you want to make hot chocolate again.

In a saucepan, heat heavy cream and milk until a simmer.

Slowly add chocolate mixture to milk while whisking vigorously.

Whisk for 1-2 minutes or until all chocolate has melted and cocoa dissolved.

Serve with desired toppings and enjoy.
Hot chocolate can be made in many different ways: spicy, thick, thin, sugary. With this recipe, I attempted to create a hot chocolate that would compromise all these traits, but would also have enough body to fill a person up on a cold day. I accomplished this by using a combination of milk and cream, but not to the point where the drink is extremely thick. The melted chocolate also helps with this. Additionally, using spices like cinnamon makes the drink more interesting and makes it taste less like it came out of a package. All of these elements helped create the best hot chocolate.
Questions about what I did? Suggestions for future recipes? Contact me through Instagram: @j.ohly.