MHS Hosts Fourth Annual Job Fair
On April 18, Middleton High School students looked to their future as they attended the fourth annual MHS Job Fair. The event occurred from 2:09 pm to 3:44 pm, during students' Academic Resource Time (ASR), and was located in the MHS courtyard.
In 2016, the MHS Job Fair began as a joint venture between the high school and the Middleton Chamber of Commerce to provide a chance for students to learn about job opportunities in the area.
This year, over 40 businesses from Middleton, Cross-Plains, and Madison participated in the Job Fair. The selection ranged from large corporations such as McDonald's, New York Life Insurance Company, Culver's, and American Girl, to small businesses such as Keva, Lupe's Taqueria, Ultrazone Laser Tag, and SwimWest. Every participating company had a table and display to share information regarding their business and job openings to students. The wide array of companies that take part in the fair provide students with an ample opportunity to gain exposure to a variety of job possibilities.
According to The Atlantic, an award-winning magazine and multi-platform publisher, in the summer of 1978, 60 percent of teens were employed or looking for work. However, in the summer of 2016, only 35 percent were employed. Despite the decline in employment, high school students are still searching for jobs to help pay for college, support their family, save for the future, or earn spending money. With the decrease in teenage employees, companies are searching for new methods to find employable teens, such as Job Fairs.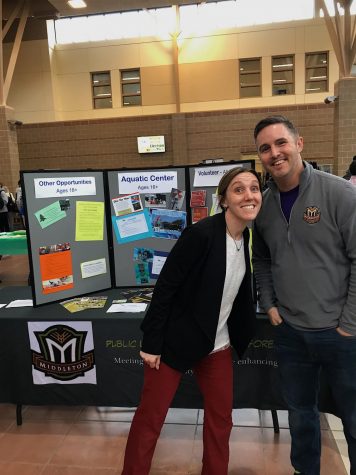 Greg Lamping, the Recreation Coordinator for the Middleton Public Lands, Recreation, and Forestry Department (Middleton PLRF), explained that this was the organization's first year at the fair. He says that the Middleton PLRF chose to participate because "We're always looking for good people and want a way to let people know that we have some great job opportunities."
With a 200+ student turnout each year, it is evident that students appreciate the ability to see job availabilities in the area.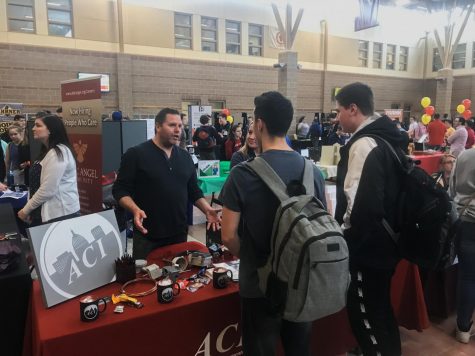 Jacob Vogt, a junior at MHS, says, "I'm grateful for any job opportunity I can come by, and it's great that they put up a whole place with a bunch of job opportunities."
If not for the Job Fair, most teenagers would not be aware of the multitude of job availabilities in the community.
Rebecca Price, the Recreation Director for the Middleton PLRF, says that the Job Fair allows students to become cognizant of job availabilities for teenagers in the community. "I'm not sure everyone realizes that we have a lot of job opportunities . . . We just want to get the word out, so people are aware of opportunities."