Club Spotlight: Global Outreach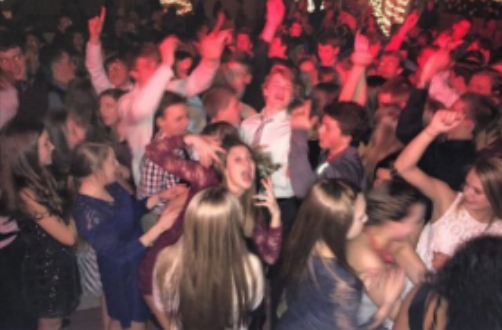 Last month, Global Outreach Club held its annual GO Dance, opening minds and hearts to the struggles in Romania and Honduras, allowing students to have fun while doing making a difference.
Global Outreach Club focuses on fundraising for the less fortunate around the world and within the community, usually concentrating on eliminating poverty and hunger, improving healthcare, and helping orphans. GO President Owen Engling explains that "not only do we [Global Outreach Club] aim to raise money, but we also raise awareness of the problems that certain places face on a daily basis." The club's most recent (and largest) fundraiser was the GO Dance, which raised money for two charities, "Open Roads, an organization in Romania that supports orphans, and the Micah Project, an organization that provides housing and education to homeless Hondurans," Engling tells The Cardinal Chronicle. Through the MHS Daily Announcements, the club raised awareness towards the charities.
Behind the scenes, GO brainstorms fundraiser ideas and selects the local, national, and international charities that they want to support. Engling explains, "When brainstorming organizations to fundraise for, we often have members give presentations on their organization, both to pitch it as a potential fundraiser and to educate the club about what the organization is aiming to solve." Even if an organization isn't picked to be supported by one of Global Outreach Club's fundraisers, members still are educated about an issue a fellow member is passionate about.
Global Outreach organizes more than just the GO Dance, although this is the event that typically receives the most attention. In the past, the club has arranged "Fa La La La Grams," where students pay the club to perform songs to friends in advisory during the holiday season. They have also set up "Duct Tape Wars," where students donate to an organization under the name of a certain teacher. The teacher who raises the most money would then be duct-taped to a wall during lunch. Students pay to stick a piece of tape to the teacher, and the collected money would be donated to charity. In addition, Global Outreach has arranged smaller fundraisers. One of these was a game where students paid money to attempt to drop a coin into a shot glass in a fish tank. If a student made it in, they would get a discount on their ticket to the GO Dance.
Global Outreach makes a big difference for the organizations they support around the world and in our local community. "This year we raised about $5,700 so far, mostly from the GO Dance," President Engling states. In addition to fundraising for charities, members participate in hands-on volunteer work around Middleton. At its core, Global Outreach wants to implement positive change in amusing and creative ways.
To get involved with Global Outreach Club, participate in their fundraisers or join the club. They meet in Room 1803 during ASR 1 on Thursdays and occasionally after school on Tuesdays. It is a great way to get service hours and make a real, tangible difference in the world.