El Clasico: MHS' Soccer Game of the Year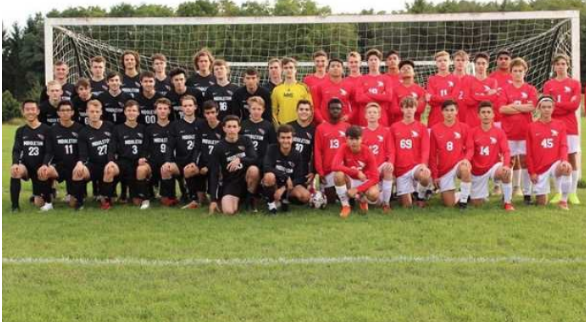 On Monday, October 14, at 7:30 pm, one of Middleton High School's biggest soccer games of the year will take place. It is not a state varsity game, but in fact, a JV senior squad game. The game is called El Clasico. Every year, two JV soccer teams are formed with mostly seniors and usually a few juniors to make a full roster. For the final game of the season, these two teams go head to head in an intense game with a packed student section, traditions such as dyed hair and custom jerseys, and of course, a strong desire to win from both sides. 
This year, however, because there is only one senior team, El Clasico will be played between Varsity Reserve and JV Black, the senior team. Many seniors are a little disappointed that the traditional El Clasico experience is missing, but they are still  excited for this event. 
Last year, the game was incredible. A large crowd was in attendance in spite of the brutal weather. After 90 minutes, the game was scoreless and went to a penalty shoot-out. One of the crucial players on the winning team was then junior striker Raad Allawi. Having played in this match before, Raad is already gearing up for October 14. "We know how stressful it can be  . . . We know how to go out there and play our game of soccer and leave with a win." 
El Clasico isn't the same without the fans, as they play a significant role in making El Clasico one of the biggest MHS soccer games of the year. If you plan on attending El Clasico, wear black to support the JV Senior Squad or wear red to support varsity reserve. Allawi explains, "Come there ready to watch a huge game. Be ready, be loud, and we hope to see you there."