Middleton Girls Golf Wins First State Title in Five Years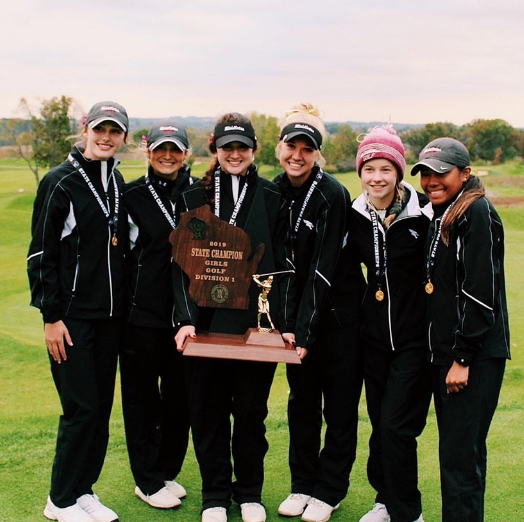 "Our goal is to win state," senior captain Kate Meier said following Middleton's win at the girl's golf sectionals at the Oaks Golf Course. The team earned a bid at the state tournament following a team score of 324, besting 2nd place Waunakee by 33 strokes. This latest state tournament appearance comes off the back of a runner up finish at the 2018 tournament, so it was unsurprising the team's goal was as high as it was. To get to state, the team had won the Big 8 conference meet, regional meet, and sectional meet, as expected. Their number one ranking by the Wisconsin Golf Coaches Association justified this expectation. The team had been ranked 1st in the state for the majority of the season and showed why the whole way. The team won their playoff matches, including state, by an average of 22 strokes.
A lot goes into winning a state title. Every team has their form of preparation, each as intense as the next. "This summer, the Varsity team did do the UW Golf Camp, so we were able to play University Ridge a few times before the season started, get familiar with the course, and team bond. So we also have that under our wing going in," reflects senior Makenzie Hodson. The team also made notebooks with strategic course notes from their practice round the weekend before the tournament.
The winning team score for Middleton at University Ridge in Division 1 this year was 651, with scores of 330 on day one and 321 on day two. It could be said that they were saving the best for last. In the case of Meier and Hodson, this is absolutely true. Hodson's score didn't actually count on day two because team #5, sophomore Milanne Dahmen, bested Hodson's 90 (88 day one) with an 87 (95 day one) as only the team's top four scores are used in the total. Meier, a Loyola-Chicago commit, finished 7th overall in the individual competition with a score of 154 (76,78). She started the tournament well with a 1 under front nine on her way to a 76 the first day. Junior Glenna Sanderson also contributed heavily to the cause with a 10th place individual finish on a 156 (77,79). She has been extremely consistent as the #2 on the team shooting in the 70s in her last three rounds.
When asked how she feels regarding this being the end of her Middleton High School Golf career, Hodson says, "I'm excited, and I'm also sad. But I think more so excited to end on such a positive note with such a great group of girls that we've come to be family with."