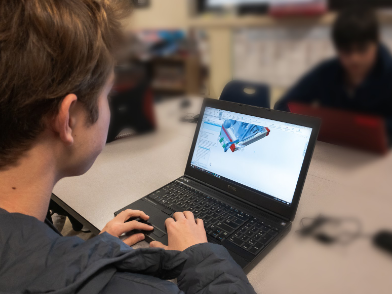 Robotics Club
Robotics Club provides the resources, time, and guidance for anyone to learn about several STEM-related topics. Junior Max Roquitte started the club this year as an introduction to robotics for anyone and everyone. "It's sort of structured so they can learn the content wherever they are,"‌ he explains. Robotics Club is structured around a Google folder Roquitte created. The folder is split into four sections with instructions on how to use CAD‌ (Computer-Aided Design or 3D modeling), 3D printers, soldering, and Photoshop. From there, each individual folder has lessons split into parts so that you can start at a beginner or more intermediate level. Roquitte and other members plan to add lessons on programming and video editing later in the year.
At each meeting, members choose a module from the Google Drive and learn from the documents provided. "They sort of pick a topic they're interested in, so they don't have to do all of the topics, obviously. If they're just interested in PhotoShop, they can just do that one, if they're just interested in 3D printing, they can just do that one without doing all of the other ones,"‌ Roquitte says. Max and others in leadership positions provide guidance to members while the school provides materials and software.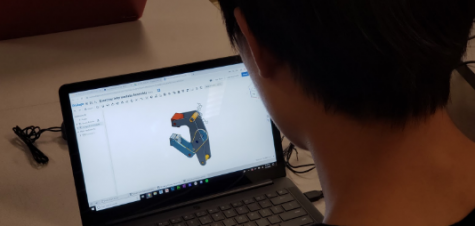 Roquitte began the club after his experience with BadgerBots, an extracurricular program where students build and program robots. Although he enjoyed it, he noticed that it was not accessible to everyone. He wanted to create a club that was a smaller commitment so that MHS students could find out what interests them in STEM‌ fields without giving up other obligations. "Going outside of school, kids have stuff going on, sports, all that kind of stuff, so I kind of feel like it's . . .  definitely more of a basic level, but it's also . . . more accessible and more to get a feel of like, 'Is this something I'm interested in?' before you commit,"‌ he adds.
Robotics Club welcomes students of all different levels to join them to learn more about STEM. "I would just like to say that to join the club you don't have to have any previous knowledge, you don't need to know anything,"‌ Max says, "I think a lot of kids look at robotics like it's super complicated . . . and you have to be super, whatever, nerdy, but you really don't, so I would just say if you're at all interested in STEM at all . . .  it's probably a good fit."
Join Robotics Club every other Friday during ASR 1 in room 3800. Their next meeting is on November 22. For more information, reach out to [email protected]