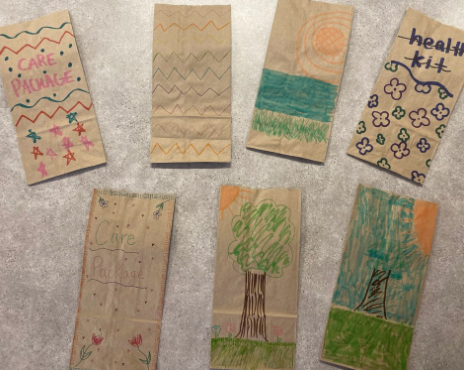 STAND
STAND, originally Students Taking Action Now: Darfur, began as a student-led movement to end genocide in Sudan. From there, it expanded into an organization fighting mass atrocities around the world. "It doesn't constrict itself to one conflict area," founder Abhav Soni says. He started the club second semester of last year, eventually adding Mara Allen as co-president. On a more local scale, the chapter at MHS is now expanding its work to more general human rights violations, such as poverty and lack of access to education.
"For our chapter specifically at the high school, we're trying to raise awareness about genocide that's going on worldwide and also empower students in our communities to take action to see the change the change they want to see,"‌ Soni says. Awareness and empowerment are essential to STAND's mission. The lack of awareness surrounding issues in other countries, and within our own, prompted Abhav to start the club, saying, "I feel like since we live in Middleton, we're living in a bubble. We don't really see that there are a lot of horrible things occurring around the world and I think it's important that people who are aware of those issues to be bringing them into the high school to create a discussion on how we as students, even across the world where these atrocities are happening, how we can support them in that."
The club supports four different issues from different areas around the world each year. For their first quarter, Mara is running the project, partnering with a small village in Belize called Pomona, where many people have Dengue Fever. Each meeting contributes to the project, whether it is planning an event to raise funds, decorating medicine bags, or having a discussion on how best to raise awareness for the problem.
"I would say we're very much, like, member-oriented, so we aren't just saying 'here's what we're going to do,' we say, 'here's a bunch of ideas, what do you want to do, what's important to you?' and then we go based on what our members feel is most pressing," Allen explains. Members have not only a large say in the club, but also a role in Student Senate to discuss "the importance of not just issues that people of color face in our community, but globally,"‌ says Soni. At a meeting last semester, members were able to look over the administration's in-progress hate speech policy, making comments and suggestions. Soni then presented this to Student Senate as the representative for STAND. 
Student activism is a large part of their mission: "As a club in general, we also just want to promote awareness for the things that are going on because a lot of these things are awful, but we just don't know about it,"‌ Allen says. In addition to raising awareness for issues that they are focusing on in their club, members also will learn from experts on how best to make change. Later this year, members will have the opportunity to meet with Wisconsin Representative Mark Pocan or his team to discuss fair access to education, along with what steps students can take to promote that. 
On whether or not the club was still accepting new members, Mara responded, "It would be totally fine for anyone to just join because there's always going to be a job for them. We always want to hear more voices."
Join STAND‌ at 7:50 AM in room 2059 on Tuesdays. For questions, contact @stand_mhs on Instagram.