Behind the Scenes of Theatre (The 39 Steps)
If you went to see The 39 Steps on November 7, 8 or 9, you probably watched the actors performing without giving all that much thought to how perfect the lights and sound were synchronized with the actions on stage, or how all of the actors were dressed and made up to look exactly like the characters they were portraying. If you read through the bios of the actors, you would have seen how just a couple of them thank "crew." You might have wondered what exactly this elusive "crew" is. The crew doesn't get their bios in a fancy program;they don't get their headshots hung up on the wall, and, usually, they don't get all that much credit for all of the hard work they put in to create the beautiful theatre shows we all love to see. 
Although their reasons for joining crew are all different, whether it be family influence, mutual friends, or the more common, 'I needed something to put on my college resume,' they all found a community at stage crew that is unlike anything else.
In acting and other areas of theatre, you have to follow a script and do what the director wishes, but, as senior Aidan McLeod shares, "Crew is all about your decisions and your interpretations of the show."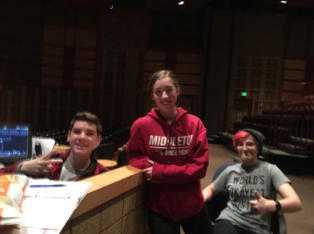 Lights
(senior Aidan McLeod, sophomore Karlye Kriewaldt, freshman Maddie Goscha) – You might have seen the lights part of the booth in the house of the theater. Lights is all about, as you might have assumed, the lighting of the show. This includes the technical stuff, such as coding and the hanging of individual lights, but it's far more than that. Aidan McLeod, the head of lights, explains, "We create the look and feel of a show, you know? And the mood." Lights are critical for theatre, because not only is it necessary to be able to see the play, but they truly make each show a special experience. Aidan is very experienced with lighting, as this is his 11th show with the Middleton High School Theatre, and he has two apprentices, Karlye Kriewaldt and Maddie Goscha, learning from his expertise.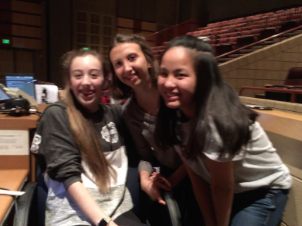 Sound
(senior Lili McGuffey, sophomore Emily Lynch) – On the other side of the booth, you have sound. They mainly focus on the sound of the show, so they work with microphones, including floor and hanging mics. They also work with sound effects. As Emily Lynch explains, "If you hear it, it's us." Lily McGuffey is the head of sound, and she took on several freshman apprentices last year, including Emily. Emily decided to join sound after meeting Lili McGuffey and Julian Engle, who were both juniors involved in sound, and deciding that it seemed fun. As it turns out, both Lili and Julian are really fun, but "We're all a little scared of Julian," jokingly says Lily, and her two apprentices agree.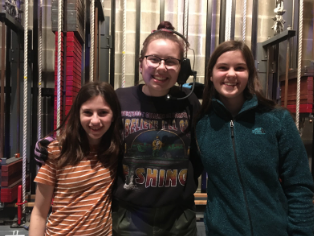 Rail
(senior Emma Rozum, freshman Baila Becker, freshman Sara Zohn) – Rail happens a bit more behind the scenes than lights and sound because they do all of their work in the wings of the stage. On stage left, there are numerous pulleys that are attached to different curtains, lights, and signs that they can raise and lower. Their main job is bringing in anything that comes down from the ceiling at the right time, but they also overlap a bit with running crew. Emma Rozum is the head of rail, and this year she has two freshman apprentices, Baila Becker and Sara Zohn. Emma initially joined crew because her brother had done it, and it seemed like a lot of fun. She tried it out, and, as it turns out, crew is extremely fun.
Running Crew
(seniors Chase Harless and Connor Shanley) – Running crew works mostly in the shadows, moving set pieces on and off stage and making sure that all of the props are where they need to be. As Chase Harless puts it, his job is to "make sure that the show runs smoothly from a backstage point of view." Chase is quite experienced and involved in theatre, starting in his freshman year as an assistant stage manager, and since then, he's worked on most parts of stage crew, and he also acts in many of the plays.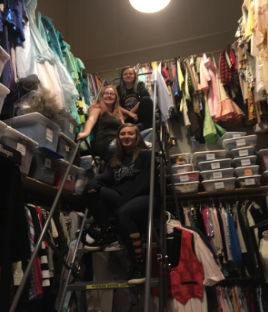 Costumes
(seniors Moniek Smink, Harley Burch, Mal Miller) – Costuming is not as simple as just finding clothes for each person; the clothing has to reflect the time period and the character properly. The costuming department has to work extremely hard to find the perfect pieces for each of the actors. In production costumes, they also have to help with quick costume changes. Moniek Smink got into costumes her sophomore year, with her background in theatre and cosplaying making the transition an easy one. "I enjoy the intricacies of what makes up a show and what makes a show look like what the show is," says Smink. Now in her senior year, Moniek Smink is the head costumer, so to prepare for The 39 Steps, she met with the director and designed almost all of the costumes.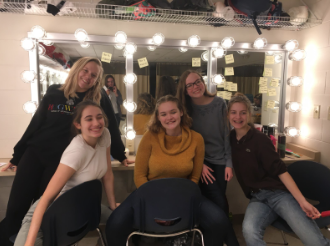 Hair and Makeup
(junior Lily Pritchard, sophomore Mia Burkholder, sophomore Abby Sperger, sophomore Avery Brutosky, junior Julia Connell, sophomore Vivian Szot) – Hair and Makeup is made up of many people because it's such a huge job to do in such a small amount of time. Before each show, every actor needs their hair and makeup done, which can be a huge job. The head of hair and makeup, Lily Pritchard, designed the hair and makeup for each actor based on the time period and their character's role. Although most of hair and makeup happens in the green room, The 39 Steps was different in that they have to help with a lot of quick changes on side stages. Due to the number of characters, many students had to quickly change their hair and makeup to become a different character. 
Stage crew for The 39 Steps is made possible by Zane Enloe, who is the advisor for stage crew, and Zoe Salyapongse, who is the stage manager for The 39 Steps. Zane runs stage crew and is generally just managing and overseeing all of the work that goes on, and intervening when necessary. There are a lot of talented and capable upperclassmen, and they can generally lead each area of stage crew. Zoe works with both stage crew and the director, so she helps to facilitate communication between the two to make sure that the final vision is cohesive.
When explaining what makes stage crew so special, Aidan McLeod said, "There's kind of a magical feeling you get from a show when you see something really cool, and you don't quite know how they did it. So that's my favorite part of doing it and why I keep doing it – that wow factor".
Don't forget to check out stage crew on Tuesdays and Wednesdays from 4:00 pm to 6:00 pm in the PAC.