MHS Prioritizes Student Voice in Construction Plans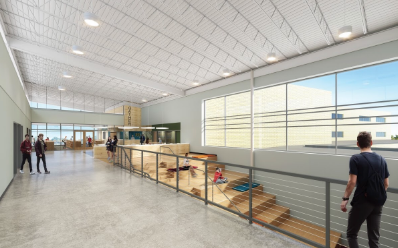 The anticipated MHS construction project begins this month, April 2020, and while students will not see the effects of construction until the 2020-2021 school year, MCPASD and Eppstein-Uhen Architects (EUA) have worked closely with students and staff since 2018 to ensure the new school serves the interests and needs of the MHS community, prioritizing environmental and security concerns while retaining a focus on learning.
Environmental sustainability remains a clear focus of students and staff at MHS, with groups like Green Team pushing for increased proactivity in this area. The renovation and new construction project for the MCPASD high school campus provides a unique opportunity to implement sustainability into daily life. 
According to EUA architect Chris Michaud, "Everything we [the new school design team] did aims to conserve energy and provide opportunities for students to learn and be stewards of the environment."
Environmental sustainability measures include energy-efficient heating & cooling systems and the use of sustainably sourced and recycled construction materials. The building envelope—the level of climate separation between areas in a building—exceeds code requirements, ensuring higher than average levels of energy efficiency. 
With a rise in school security threats, the new building was designed with stringent safety measures in mind. By reconstructing the oldest areas of MHS, the new campus will come equipped with newer technological advancements to ensure school security. In the event of a security threat, administration would be able to contain the threat by isolating certain wings of the building. Where main door terminals currently exist, technological components will allow locked doors to become invulnerable barriers.
In addition, as the campus expands northwards, new entrances similar to the one currently located on Bristol Street will be constructed, allowing building entrances and exits to be more securely monitored throughout the school day. As seen this year with increased ID-checking policies at the Greeter's Station, administration will continue to ask students to comply with basic safety measures throughout and following construction.
The design of the new campus has additionally been designed to facilitate a shift towards collaborative learning. Inspired by modern school constructions—such as Waunakee Intermediate School—observed by the visioning team, the new campus will feature open space concepts. These spaces will serve as social and collaborative learning spaces for students.
"It almost feels like a college setting . . . The whole idea here is more open, more natural light, more opportunities for students to work collaboratively instead of in a smaller classroom," says Hibner.
While MHS is currently centered around specific subject hallways, the MCPASD high school campus construction seeks to restructure the school around "Small Learning Communities" designed around an increased emphasis on interdisciplinary learning.
Overall, the main priority of campus redesign is "that the spaces are functional—that they do what students and staff need," says Hibner.
Nanowalls, similar to those seen at Kromrey Middle School, are one feature that may enable greater functionality in the learning process at MHS. With transparent walls, teachers can observe students in the hallways while simultaneously teaching within the classroom.
As the school's population and resources expand, MHS is looking to provide new and updated spaces for students to explore diverse subject matter.
"There is so much to be excited about," says Michaud, citing a digital art area, "Fab Lab" for fashion projects, a new robotics lab, and a coffee shop for the culinary program. In addition to the Performing Arts Center (PAC) Theater, the new campus will also include a black box theater, creating flexibility in stage performance and audience interaction for the exploration of innovative performing arts projects. 
Barring future complications from COVID-19, construction begins April 2020 and is set to conclude before the 2023-2024 school year.