How to Make a COVID-19 Journal
Firsthand accounts of history are seen as treasure for historians, writers, students, and curious minds. In our unusual position, we have the opportunity to create these records and put our own thoughts out into the world for future generations to learn from and admire. One of the easiest ways to do this is by making a COVID-19 Journal with supplies you already have at home.
Creating the Cover of Your Journal
You will need any notebook (can be partially used), two pieces of printer paper, recent newspapers or printed headlines, a glue stick, and some colored construction paper (optional).
Start by removing any pages that may have been used. This is not a necessary step if you are using a brand new notebook, but limiting trips to the store may mean you have to use an old composition book.

Trim the printer paper to cover the back and front of the notebook, leaving the binding uncovered. Glue the pieces securely to the notebook. 

Cut out coronavirus-related headlines or articles from the newspaper, arranging them on the cover as you go. When you are happy with the way it looks, start gluing pieces down. To highlight a certain phrase, or add a pop of color, frame a phrase with colored construction paper. If you do not have a physical newspaper, screenshot or copy online articles into a document, format them correctly, and print. Magazines or drawings can be used instead.

Repeat the previous step for the back of the notebook. 
What to Write
Start off your journal by writing a letter to the future. Talk about why you have decided to start a journal and what you want future generations to take away from this time or your experiences. After that, create a list in the back of your journal of your happiest moments in quarantine. Add on to this as you go and look at it when you are feeling down. Some of your responses may make you feel like nothing is going right, and it is important to be able to look at that list and remember the good.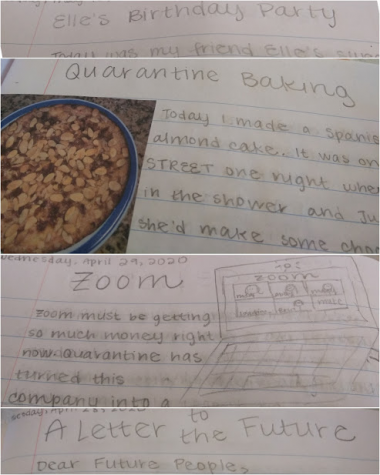 Writing about everyday life has worked the best for me, but some days there genuinely is not anything to say. In these cases, try some of the prompts below:
If you don't want to get too personal:
Log your daily routine.

What are your quarantine hobbies?

List your quarantine essentials.

What's on your "Quarantine Playlist"?

Write a profile on each of the people/pets you're quarantined with.

Review the books, TV shows, or movies you've read/watched so far.

What are some new things you've tried during the pandemic?

List your quarantine purchases.

What are your favorite quarantine snacks or meals?

What dishes have you cooked or baked since quarantine began?

Have you deep-cleaned or reorganized your room? How has it changed?

Write a Quarantine Bucket List.
If you want to talk about daily life:
What would you be doing today if the pandemic had not happened?

Have you or any of your friends had a birthday in quarantine? How did you celebrate?

When or how do you think things will reopen? 

Do you think our leaders are doing a good job of handling the pandemic? Why?

List some big events in your life that have been canceled or postponed.

How have you been connecting with friends during this time?

What do you like or dislike about online school?

What memes have gotten you through this time or express how you feel?

How have your pets reacted to your constant presence at home?

Define some key terms about COVID-19 and quarantine in your own words.

If you normally work, how has the pandemic changed your job?

What have you discovered about yourself after spending so much time alone?

What have you discovered about your family after spending so much time together?

Talk about your experience with Zoom.

Have you been able to experience more or less of nature during this time?

List some headlines or articles that have impacted your thoughts on coronavirus.

How has your sleep schedule changed?

How have your eating and exercise habits changed during the pandemic?

Have you gone shopping? How was it different from shopping before COVID-19?

If you could go anywhere and do anything and the pandemic wasn't happening, where would you go and what would you do?
If you want to go deeper:
What are your fears about the pandemic?

Who or what do you miss most about the pandemic?

What makes you mad about the pandemic?

Write a letter to your future self talking about the things you do not want to take for granted again.

What's the hardest part of the pandemic for you right now?

Do you feel lucky? Why?

What are the saddest and happiest things for you about quarantine?

Have you cried in quarantine? Why?

Do you miss in-person school? Why or why not?

Talk about how your mental health has been impacted by the coronavirus.

How do you really feel?
Tips for Creating the Best COVID-19 Journal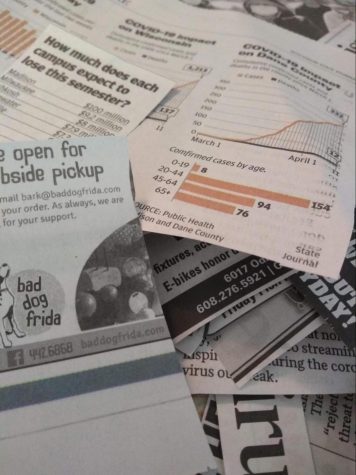 Use pictures and headlines as much as possible. 
As they say, a picture tells a thousand words. Whenever you have an image or a headline that goes along with a journal entry, use it. It adds a level of reality that can get lost in words—this is not a fictional story; it is about reality.
Be sure to write out the date of each entry, of each event listed in your "happiest moments in quarantine list," or of any pictures.
Sugarcoating or glossing over the difficult or happy parts of the pandemic will not make for the most accurate (or most therapeutic) journal. More than just creating a historical record, writing in a journal during this time can help you to process difficult emotions. The University of Rochester Medical Center, along with many others, have found that journaling can help with stress, fear, anxiety, and depression, along with increasing your overall mood—all things that many could use during this time. If you never want to show your COVID-19 journal to anyone, that is okay. Using it to process your own emotions is equally as important.
Things that may bore you right now will mean something to you years from now. This is an extremely unique situation, and recording it, even the most mundane moments, add something to history.
If you want to add to the Wisconsin COVID-19 Journal Project, find out more here.