Tiger King: Entertaining but Without Meaning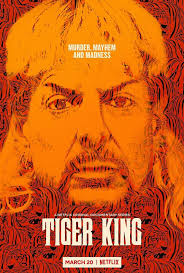 Unless you've been living under a rock during quarantine, you've heard of Netflix's latest hit docuseries Tiger King. Tiger King craze has swept the nation and has become a must-watch during these uncertain times,. However, is this docuseries worth the hype, or should you find something else to do with your time in quarantine? Warning: some spoilers for the series ahead. 
Tiger King's tagline is Murder, Mayhem and Madness, and that's definitely what you get when you mix a gun-toting, drug-loving redneck who owns a zoo with1 76 tigers and other exotic beasts with a suspected murder for hire plot. This man goes by Joe Exotic, and he is one heck of a character. In fact, it is often hard to remember this is a true-crime documentary and not just a fictitious tale. Joe's ridiculous antics and his crazy cast of zookeepers make the show very entertaining. The show mainly follows the rise and fall of Joe Exotic through his legal battle with Carole Baskin, the owner of Big Cat Rescue in Tampa Florida, whose business claims to be a cat sanctuary where they rescue big cats (tigers, lions, lynx and more) from cruel owners and give them a place to live out the remainder of their lives. This claim is challenged throughout the documentary by Joe Exotic and others in his line of work.  
Legally, Exotic's feud with Baskin is due to copyright, but the true feud is Joe Exotic's constant pestering that Carole Baskin killed her missing ex-husband Don Lewis. The documentary lays out some solid evidence that this may be true, but much of this is circumstantial and does not prove anything. We may never know what happened to Don Lewis, but Tiger King will have you screaming bloody murder. This is just one of many crazy storylines that make Tiger King a wild ride for its viewers. 
While it is tons of fun to watch, there are a couple of things that viewers must know before deciding to watch the hit docuseries. First, you must understand that this is a story about tiger owners, not the tigers themselves. We learn a lot about the crazy owners of tigers but we don't see much about how they are kept and if they are being treated fairly. The documentary chooses to spend most of its time on the craziness of Joe's life and others who are in the tiger industry, and spends very little time showing the viewers exactly how bad captivity is for the tigers. Of course, there is a little bit about how they are underfed and don't like cages, but the documentary really falls flat in delivering a message about how awful these wild cats are being treated, and how no zoo is adequate for these creatures. 
Another fault in the documentary is that it treats some of its cast unfairly. Some examples of this are that John Finlay, one of Joe's ex-husbands, is only portrayed with many of his teeth missing which makes him look like a scary drug addict and makes most viewers look at him in disgust and lose trust in what he says. However, Finlay did have his teeth fixed, but the documentary chose not to include this information as it makes Finlay appear more human, taking away from the documentary's shock factor. Also, the show misgenders former zoo employee Kelci Saffrey who goes by Saff. Saff is a transgender man who uses he/him pronouns, but this is not acknowledged anywhere in the documentary. The other employees of the park often used she/her pronouns despite Saff being trans, and this has left many viewers angry that Saff was treated unfairly by the documentary. However, easygoing Saff does not care much and said he is comfortable with the many pronouns others use. 
Tiger King is very enjoyable for all viewers as they are taken into Joe Exotic's crazy world and follow his rise and fall. However, the documentary fails at having a strong message about the mistreatment of animals and instead focuses on the people, which makes the documentary lose a lot of its meaning. Although the documentary lacks the message it should have, it is still too much excitement to miss out on. Tiger King is a must watch documentary that brings delight to viewers but fails in having an overarching message.