The Show WILL Go On: Middleton Theatre to Create Something Amazing Out of the Chaos of COVID-19
When one goes to the homepage for the Middleton Theatre website, a quote by composer Stephen Sondheim stands out in stark white against the black background: "Art, in itself, is an attempt to bring order out of chaos." 
Bringing order out of chaos truly is a theme for the whole of MHS theatre this year as they forge ahead with plans for not one, not two, but five productions, finding innovative ways to create art in the midst of the chaos of COVID-19.
The format of how they do this looks, as everything does, a little different this year. All rehearsals are over Zoom, and four of the five productions will be filmed in a video format, with the remaining one being produced as a livestream.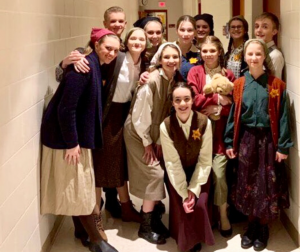 The first production, "War of the Worlds," has already been released (click here to watch). The script was a radio show in 1938, which actors were responsible for adapting and reimagining to fit the modern day.
For the second show of the year, the department's traditional longer fall play, actors are recreating a "B-movie" entitled "Teenagers From Outer Space." Shorthand for "bad movie" (think 'so bad it's funny'), the show departs from anything they've done before. MHS theatre director Katrina Brunner calls it "fun and totally different", and it involves lots of cheesy special effects, editing, and splicing things together— an unexpected joy that never would have been experimented with without the circumstances of 2020.
Another fresh take on performance this year is the showcase "2020 Vision," which features different types of student work Brunner has been collecting all fall. It gives a much-needed platform for talking about the insanity of this unprecedented moment in time. "It's been a stressful year, and we've all grown and have all kinds of stories from this crazy year," she says. "2020 Vision" seeks to tell those stories through poetry, music, and other forms of creative expression.
Teenagers From Outer Space and 2020 Vision will be released on Dec. 4 and 17, respectively. The remaining two shows are a compilation of scenes from Shakespeare called "Mis-Shapen Chaos" set to be released on Dec. 11,  and the spring musical, "Cinderella," will be available for public view from March 18 through March 24.
With a variety of new performance types, platforms, and rehearsal methods, it's safe to say that Stephen Sondheim would be proud of the order Middleton theatre has made out of the chaos of 2020. "We're just trying to think outside of the box and make something happen," Brunner says. Make something happen, they did indeed.
Keep an eye out for upcoming performances: all productions can be accessed on Middleton Theatre's website as well as their YouTube channel.