Delicious Spicy Vegan Lentil Soup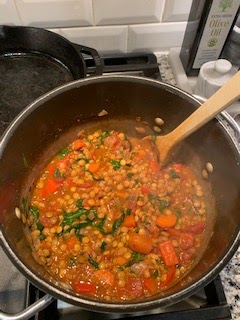 Modified from "Vegetable-Lentil Soup with Sherry" in "Soup of The Day — 365 Recipes for Every Day of the Year" by Kate McMillan.
With the weather being so cold lately and everyone stuck inside, we all need a nice, warm recipe to boost our spirits.  This soup recipe is just that. It is a warm, flavorful vegetable soup that anyone can make.  My New Year's resolution was to cook a lot more and to eat healthier, and this soup checked both boxes. I made this for my family and we all loved it, and I hope you do too.
Serves 5-6
Ingredients:
Olive oil
1 red onion, chopped
1 clove of garlic, minced
1 red bell pepper, chopped and seeded 
1 carrot, chopped and peeled
7 cups vegetable broth
2 cups rinsed green lentils
1 can (28 oz.) diced tomatoes with juices
1 ½ tsp paprika
1 ½ tsp ground cumin 
Dash of curry powder
⅛ tsp ground ancho chili pepper
½ tsp salt
Pepper to taste
5oz spinach, coarsely chopped
2 Tbsp dry sherry
Directions:
Start by heating a large pot over medium heat, and add enough olive oil to coat the bottom of the pot. Let heat up for about 2 minutes. Then add the onions; sauté for 5 minutes.

Once the onions are soft, add the carrot, bell pepper, and garlic. Sauté them for 3 minutes.

Slowly stir in the vegetable broth, lentils, tomatoes (with juices), paprika, pepper (to taste), cumin, salt, ancho pepper, and curry powder.  Then bring to a boil.

Reduce the heat to maintain a simmer, cover, and cook for 20 minutes or until lentils are tender.

Stir in the spinach; cook uncovered for 2 minutes or until spinach is wilted.  Once wilted, add in the sherry.

Finally, turn off the heat and serve!
My family's goal is to make one soup every week of 2021, and this was our second soup.  I modified measurements, spices, and ingredients to make it more flavorful, as well as vegan. Even though it is early on in our soup-making journey, this is one of my favorite soups I have ever had. I would highly recommend this soup to anyone looking for a fairly simple recipe that will leave you with leftovers. I hope you enjoy this soup as much as I have.