BeyONd Our Walls: Creative Writing Students Share Poetry Exhibit With MHS
The past year has been one for the books; a pandemic, a presidential election, and several social justice movements have stirred up the daily practices of millions. During one of the most tumultuous years of many people's lives, the Middleton High School (MHS) community has also been grappling with the prospect of seeing its school being demolished and reconstructed. One group at MHS has taken these challenging circumstances and turned them into an opportunity to share writing with teachers and classmates.
Jennifer Ohly is the creative writing teacher at MHS. Every year, with the help of her students' imagination, the creative writing classes put on a poetry show to display the work they have done throughout the unit. 
"I love seeing what theme develops for each poetry show, and this semester's exploration of the concept of walls has led to much risk taking and vulnerability in the student writing," said Ohly. "I'm so proud of my students' willingness to share such beautiful poetry in a public space so everyone can enjoy and learn from their voices."
This year, the show is titled "BeyONd our Walls," as a play on the idea that the students get to  physically write their poems on the walls of MHS, walls that will inevitably be torn down in coming months. In creating their pieces, students have been left up to interpret the complex theme of "walls" in whatever way they like. Some students wrote about physical walls, others wrote about social walls. Some focused on walls as confining, while others highlighted the freedom that comes from breaking walls down. According to the show description, "there is always something beyond our walls."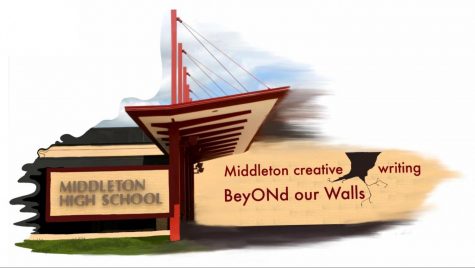 Many student writers appreciated seeing their classmates' artistic interpretations of the theme. Senior Alex Feltz was one of these students.
"You get a chance to see different students' works and how each of them has their own view…it's interesting to see everything," he said. 
In reading different accounts of challenges and triumphs, Feltz and other students have been better able to understand the diverse experiences of their classmates.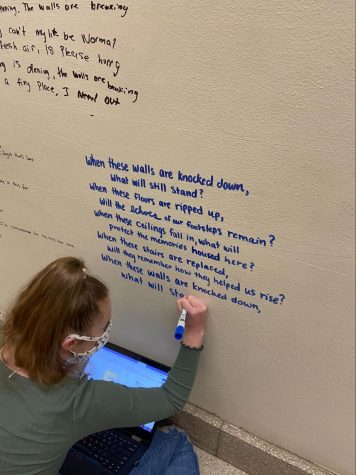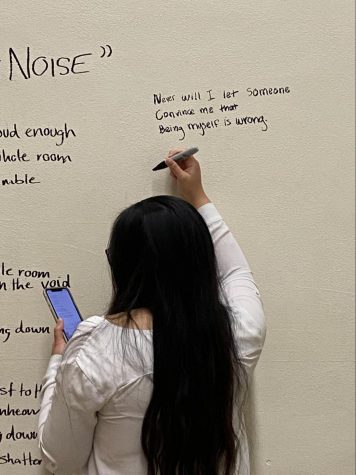 Students also found the project to be cathartic as they have been able to express their thoughts in an innovative way. Another student, senior Samantha Burkhard, was captivated by the opportunity to write on the walls of the school.
"I feel like I committed school-approved vandalism, but it was really fun and freeing," Burkhard said. 
It is not often that students are permitted to showcase their pieces by writing on the walls of their school. The feeling of liberation that comes with that kind of artistic expression has made the poetry pieces so much more meaningful.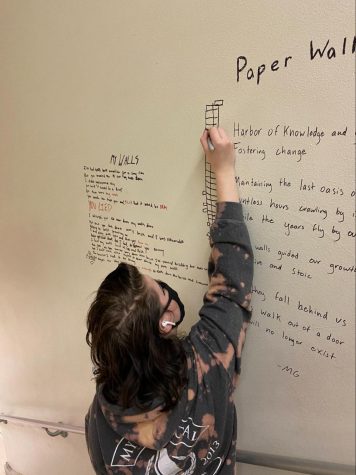 Tim O'Malley, a senior, shared a similar sentiment, as he found greater significance in the poetry project. 
"The poetry show is so much more than an assignment because of how authentic it is. All students took great pride in writing something that our classmates walk past everyday. It's a platform that gave a lot of students the freedom to express themselves." 
To O'Malley and other dedicated students, the "BeyONd our Walls" exhibit has been a powerful outlet to showcase the writing skills they have acquired over the course of the semester. The things they have learned go far beyond class requirements and the school has been able to appreciate the hard work of these skilled writers.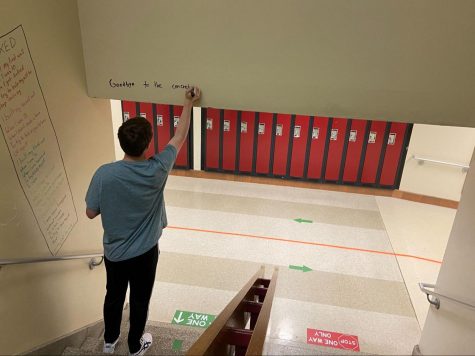 The "BeyONd our Walls" poetry show has garnered positive attention around MHS as a creative community-building exercise during a time of so many changes. Not only have writers been able to display pieces they feel proud of, but the school as a whole has been able to breathe into the shared experiences they are discovering. For so many members of the MHS community, the destruction of the school has been deeply symbolic. And from the seats of the creative writing class, talented, young poets have found the words we've all been searching for.