Creating the MHS Yearbook During COVID-19
What was it like working on the yearbook during the COVID-19 pandemic? Middleton High School (MHS) sophomore and yearbook editor Madilyn Vander Sanden can answer that in one word: stressful.
With a fully virtual first semester, many cancelled events, and a staff that could not meet in person, the yearbook staff faced several challenges in creating this year's edition of the yearbook. However, through innovation and teamwork (and tons of Zoom calls), the staff was able to make a yearbook to remember.
In a "normal" year, yearbook editors meet during the summer to pick out the theme and layout for the yearbook. They then teach students how to use the yearbook creation software and work on pages throughout the school year. Due to COVID-19 restrictions this year, yearbook editors had to meet over Zoom, and they struggled to pick a theme in time. Then, they had to learn a new software program because the staff was unable to use technology in the building at MHS during fully virtual learning. 
In addition to the difficulties presented in having to learn a new software program, the yearbook staff struggled to gather content when many events had been cancelled and students were not in the building. 
"Normally we're able to kind of go around to classes and just find people and say, 'Hey, can I take your picture and get an interview?' and we just weren't able to do that this year, so definitely gathering content has been pretty difficult," yearbook editor and MHS senior Allison Thomley said. 
Although students were unable to complete in-person interviews, the yearbook staff adapted by sending out school-wide surveys to gather necessary content, asking questions like "did you get a pet over quarantine?" and "did you get famous over quarantine on TikTok?"
"We for sure had gone more towards the student life direction for this [yearbook], which seemed to be a popular [section] anyway," said Thomley. "Because we weren't able to do full sports, spring sports, all of them throughout the book, we really kind of showcased what people were doing with their time, in quarantine and then also when we were transitioning back to school."
Additionally, staff covered as many athletic events as they could, often highlighting COVID-19 safety measures and the differences between this season and those prior.
"This year we definitely wanted to showcase what did happen," Thomley said. "Even though COVID cancelled a lot of stuff and we were really unsure of what we would be able to cover, I think we were still able to pull it off."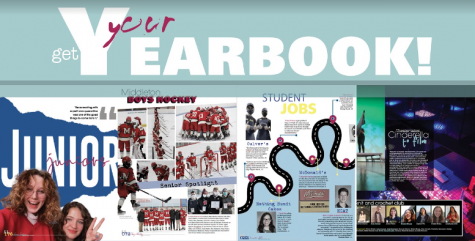 While COVID-19 definitely presented challenges to the yearbook staff, it also was a cause for inspiration when it came to the yearbook's cover, which will feature plexiglass.
"We came up with that idea because a lot of stores have been using plexiglass shields to separate themselves more from customers, and we thought that was a good fit for this year and really specific to this different year that we're having," Vander Sanden said.
"It actually started as a joke," Thomley said. "Because I was like, 'Oh, I'm gonna push for plexiglass next year,' before COVID even hit, and then when COVID happened and we were trying to figure out a cover we were like, 'It kinda makes sense to do it, it just fits so perfectly.'" 
Deciding the cover design is just one of many aspects of designing a yearbook, and those decisions often become more pressing as the school year goes on. When MHS transitioned to hybrid learning in March, it became "crunch time" for yearbook staff. 
According to Thomley, the transition was beneficial to the Yearbook class. In-person learning made it easier to contact people for content and teach design concepts to second semester students. Because students were back in the building, collaborating with other staff members became easier, as well as gathering content, as they could now photograph and interview students in person.
"
"Yearbook is definitely a collaboration kind of thing and that is very difficult to do with not being together. I think being able to come back to school has helped the process go a little bit better and faster, but it's still been really difficult."
— Allison Thomley
Despite all of the changes that the yearbook staff experienced, one thing stayed the same: the community.
"People are so willing to help each other and eager to help each other out, and I think that was extremely helpful this year because it's a team effort, it's definitely not something that one person can do, and so I think that sort of environment of 'let's get some work done!' stayed the same this year," said Thomley.
According to Vander Sanden, the real-life experience gained by working on the yearbook did not change either.
"With teachers, they're always like, 'You can have an [extension],' and with the [yearbook] deadlines, if you didn't have it in, then that's your own fault, and it wasn't going in," she said.
Thomley also noticed that the expectation for the staff did not change throughout the year. She acknowledged that while there is a stigma around Yearbook being a "joke class," the course teaches students the consequences of not meeting a real deadline and the importance of teamwork.
"The real-life experiences that you get from Yearbook are unmatched to any other class that you will ever take in high school… You know there's gonna be bumps in everything that you do, and so you just kind of learn how to get past it… and that's just what I love about Yearbook."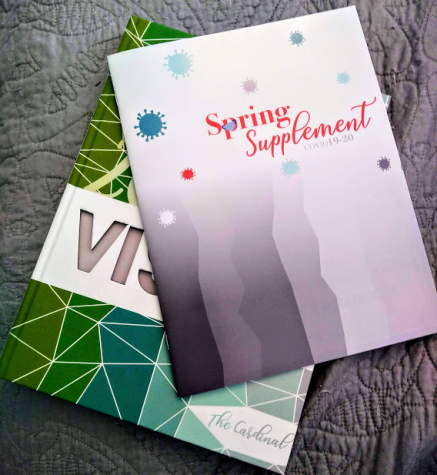 Even through the stress of this year, yearbook staff remained dedicated to their work. For some, it brought a new level of importance to the real-life experience of the class.  
"It felt more important this year to make such a good yearbook because we're living in this crazy time that needs to be documented, and so it gave a sense of purpose, almost, at least to me, to really just make this a good yearbook," Thomley said. "It was challenging and very stressful at times, especially towards the end…  but it's always just such a fun time and a great community that we can be surrounded with."
Yearbook sales are open on My Payments Plus until June 14 for $65. Pick-up is from 5-8 on June 14 and July 16 in the Kromrey Middle School bus lane. Students must bring their MHS IDs to pick up their yearbook.