Three Easy Recipes Just In Time For Thanksgiving
With Thanksgiving around the corner, you may want to join in on the baking fun, but not know where to start. When trying something new, it is very easy to get in over your head with a popular recipe found on social media. But changing things up does not have to be so difficult. Below are three easy recipes that can add some fun variation into your Thanksgiving dinner. 
Pumpkin-Shaped Biscuits
Ingredients & Supplies:
1 pack of Pillsbury Grands Biscuits (each pack contains eight biscuits)
1 roll of twine
1 small bag of thin pretzel sticks (also used in Acorn Donut Holes)
Instructions: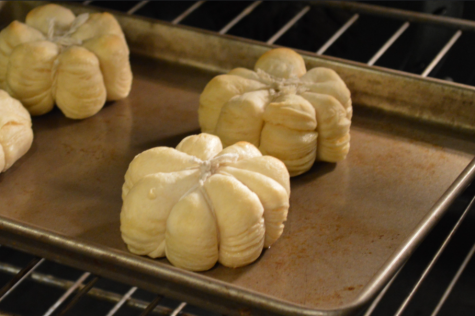 Grease a baking pan, and preheat the oven to 375 degrees Fahrenheit.

Cut four 6-inch strips of twine. Lay the first two in the shape of an X, then lay the second two perpendicularly, splitting the X in half.

Lay the biscuit on the center of the X. Grab both ends one strip of twine and tie them into a knot. Repeat this step for the other three pieces of twine.

Tie the twine tight enough to create a ridge in the biscuit. Double knot each piece to keep them from coming undone. I would recommend leaving them a bit looser than you think to prevent the inside from remaining raw. As the biscuit cooks, it will expand, pushing against the twine to create the pumpkin shape.

Feel free to experiment with the instructions, adding more ridges if you would like.

Repeat steps 2–4 for each biscuit, then distribute them evenly across the pan. Place the biscuits at least two inches apart and one inch from the edge of the pan.

Place the biscuits in the oven, and set a thirteen minute timer. Depending on what biscuits you use, your baking time may vary. Reference the label on the container for cooking time. 

Take the biscuits out of the oven, and let them cool for five minutes. Then cut the twine off with a pair of scissors.

Break four pretzel sticks in half, and poke each half into the center of a biscuit for the stem. Pierce the biscuit, making half of the remaining pretzel stick visible.

Eat and enjoy!
Acorn Donut Holes
Ingredients:
One 24-pack of premade glazed donut holes
1 can of chocolate buttercream (I used Betty Crocker)
1 small bag of thin pretzel sticks
1 container of sprinkles
Note: You can opt to make your own donut holes and buttercream. However, these instructions are not included.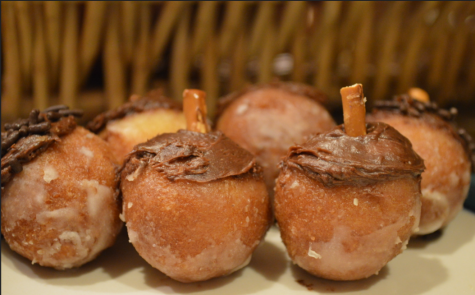 Instructions:
Open your buttercream and scoop a few spoonfuls onto a plate.

Take one donut hole and dip it into the buttercream so one third of it is covered in icing. This will be the top "cap" of the acorn.  I would recommend using a spoon or butter knife to smooth the frosting around the donut.

Break a pretzel stick in half and poke it into the center of the frosting for the stem.

Add sprinkles of your choice to the frosting. Use your butter knife once again to press the sprinkles into the frosting.

Repeat steps 2–4 until your acorns are complete.
Cran-Raspberry Jello Dish
Modified from "Cran-Raspberry Jello Salad" from "Joy In Every Season."
Ingredients: 
2 small packages of strawberry jello (I used Jell-O brand)
2 small packages of raspberry jello 
3 cups of boiling water
1 can of whole berry cranberry sauce
1 can of crushed pineapple
1 pint of sour cream
1½ cups of frozen raspberries
Note: This recipe fills a 6-cup jello mold to the edge. If you have a smaller mold, make two or reduce the portions.
Instructions:
Add a small amount of baking spray to your mold to make the removal easier.

Take out your strawberry jello mix and add it to 1½ cups of boiling water in a heat-safe bowl. Stir until it is fully dissolved.

Add one cup of whole cranberries and the can of crushed pineapple to your mix. Make sure all of your fruit is fully stirred in, then pour your mix into your mold.

Let this mix refrigerate overnight and check that it is set. To know whether your jello is fully set lightly press your finger or a spoon against the jello. If it sticks to your finger it needs more time. If it doesn't your jello is set.

Spread a thin layer of sour cream on top of the jello in the mold.

In a separate bowl, add your raspberry jello mix to 1½ cups of boiling water. Stir until dissolved.

Add the frozen raspberries to this mix and stir it one final time. Allow the jello to chill for five-to-ten minutes.

Slowly pour the raspberry jello mix over the sour cream, and refrigerate the mix until set.

Turn the mold over and remove the dish to serve.
One great thing about cooking is finding something familiar and making it into something new. The holidays are a great time to try a recipe to share with friends and family, and it is even better when the recipe is simple, not stressful. Cooking is a great family bonding activity and something to treasure. Have a happy Thanksgiving and enjoy some good food!