Wisconsin Winter Fashion Advice
Wisconsin winters. Every year when it starts to get cold again, I think I forget how cold it can actually be. Wisconsin winter days average 10-15 degrees Fahrenheit, according to Current Results. That calls for some serious changes in your wardrobe. 
While the white winters are pretty, it can be difficult finding ways to put outfits together that are warm enough in the cold, but still fashionable and put-together, and I know others do too. Here are some ideas and tips to stay warm while still looking nice during the cold months!
Layering saves lives. Seriously. Layering is one of my personal favorite ways to stay warm in the winter and still have an outfit that I like. 
T-shirts
By using items you already have in your closet, you can stay warm without sacrificing your fashion sense. One of my favorite layering items is the t-shirt. You know those oversized short sleeve t-shirts you have from summer? Grab your favorite and a white or black long-sleeved shirt, preferably one with tight-fitting arms so that the baggy oversized t-shirt works well with the tight long sleeve. My suggestion would be to pair this with either a pair of solid-colored black leggings or some baggy jeans. Below is a pairing of a t-shirt and long sleeve combo! 
Tights
Tights are your new best friend. Do you love skirts? If you are like me and you do too, this is for you.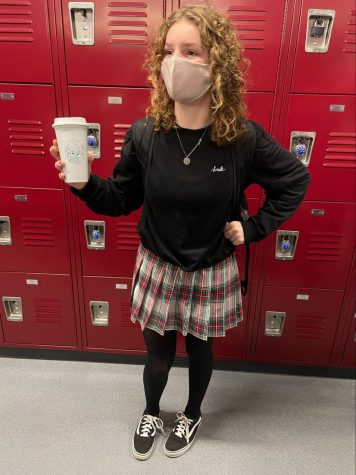 Wearing a pair of black nylon tights under your skirt will help keep you slightly warmer. Is it as warm as your favorite sweatpants? No, but it does provide a little extra warmth, and this is a great option if you'll be inside all day and will not be in direct cold. My favorite are black tights with little intricate designs on them, but plain tights work, too! 
Tights are perfect to wear with a plaid skirt or a skirt of your choice and can also work well with a tennis skirt. I prefer to wear warmer and oversized tops with tights and a skirt, so I recommend wearing a slightly oversized crewneck to go with them. I recommend tights that are not opaque black, as I personally think they look best when they are thinner. But, of course, wear what you like best!
Turtlenecks Turtlenecks!! A personal favorite again. Turtlenecks are a great way to add on another layer for your outfit. My favorite way t is to layer a turtleneck with sweaters or with a sweater vest. I would be way too cold to wear a sweater vest with a t-shirt like I did in September, but a turtleneck makes it work for winter weather.
Collared Shirts
My final tip is to utilize any oversized white oxford shirts. They look great when you wear a vintage or oversized crewneck over them to show off the collar from underneath. Again, it adds another layer. It also adds different textures if you leave it untucked, but tucking the bottom of the shirt into a pair of jeans is also great if you just want the look of the collar. 
Overall, you don't have to go out and shop for an entirely new wardrobe to stay warm in the winter. It's all about layers and using what you already have for the most part.  Of course, adding some trending or new and exciting pieces is always fun, but you don't always need to! Staying warm and cute doesn't have to be complicated.