Why The New Bathroom Passes? Student Misbehavior Caps Off a Stressful First Semester
Before winter break, Principal Peg Shoemaker and the Middleton High School (MHS) administration enacted new restrictions on student movement around the building, including limiting the use of shared learning spaces and implementing strict adherence to hall passes.
The so-called "reset" is in response to a trend of harmful behaviors that schools across the country, including MHS, are seeing this year.
First semester at MHS was characterized by more frequent physical altercations, an increase in vandalism, a higher incidence of drug sales between students on campus, and a growing trend of truancy, according to Shoemaker. 
MHS has already recorded 13 more physical contacts so far this year compared to the 2018-2019 school year, the last full school year before COVID-19 disrupted in-person learning. The administration defines a physical contact as negative physical interaction ranging from shoving to an all-out fight. There have been twenty physical contacts since school began in September. 
Students are also destroying parts of the new building, especially in the bathrooms. Rich Bruns, head custodian at MHS, sees the uptick in vandalism this year first-hand. 
Since the beginning of the school year, Bruns has had to replace five faucets students intentionally broke in the new building, each costing about 900 dollars, and four more still need fixing. The custodial staff recently replaced a faucet that was just broken again. 
Along with faucets, more than a dozen soap dispensers have been destroyed. Bruns commented that the vandalism is disrespectful to the custodial staff, and he is disappointed that students' behavior is making their jobs more difficult as well as wasting taxpayer dollars.
The new high school is predicted to cost $138.9 million, and defacement of the completed north addition is already costing the district additional funds to replace parts of the new facility.
Along with wasting resources, the rise of physical fights, skipping class, and vandalism is "not supporting students' learning or their mental health," according to Shoemaker.
Shoemaker is addressing the behavior issues at MHS with increased structure, noting that returning to school after a year of greater independence was difficult for students, especially on top of other financial and emotional pandemic-related stress.
"We looked at all of the behavioral data to make decisions," Shoemaker said. "We just decided we have to have more structure."
In December, Shoemaker announced that students were not allowed outside classrooms without a hall pass, and the small group instruction (SGI) rooms and common spaces were closed. Shoemaker reopened the shared learning spaces after winter break with added restrictions: teachers must reserve SGI rooms, and students must have a bright pink pass from their teacher to be in the rooms. 
As of Jan. 24, hall passes have taken a new form, too, as large, green plastic cards for the bathroom and bright pink paper passes for farther trips. Shoemaker and the administration hope consistent use of hall passes will reduce vandalism and prevent lingering in the hallways, something students are doing to avoid class. 
The new restrictions are unpopular among students, especially because most are following expectations and getting to class without issue.
Shoemaker is glad to see many students using the new north addition as intended. From chatting in the common spaces in the morning to working on group projects in the SGI rooms during class time, the open design is giving students the chance to connect in new ways.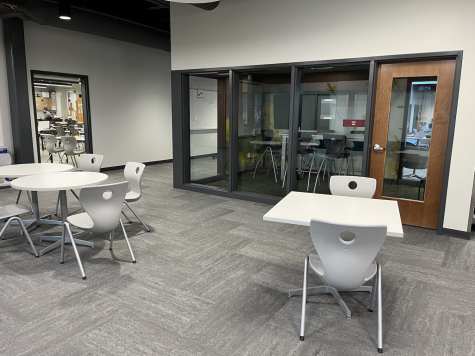 "They're just such beautiful, beautiful spaces for kids to work in collaboration or even to work independently," Shoemaker said. "I'm the hugest advocate for those small group instruction and common spaces…but we also have a responsibility to use them right."
Shoemaker is hopeful that once students adjust to the new expectations, they can use these spaces in the way they were fully intended.
"If we can reestablish some norms about how to use the space, I think it'll be just fine. It's just re-establishing, this is our school. This is how we use these spaces. We don't deface. We don't do that kind of thing," she said. 
It has not been long enough for the administration to determine the success of the current behavior "reset," but the passes are likely here to stay.