The Creekside Scoop Opens in Cross Plains
CROSS PLAINS — On Thursday, March 3, The Creekside Scoop opened for the first time and was greeted by a line of excited customers that stretched out the door.
Owners Dale and Katy Ripp opened The Creekside Scoop in honor of Dale's father, Al Ripp, who passed away in 2017. He was the executive director of Middleton Outreach Ministry (MOM) and had a big sweet tooth: "he was all about community and family and friends. Those were the most important things to him, and that's… the most important things to us, too," Katy said.
Katy and Dale also own wine bar Nineteen09 and purchased Crossroads Coffeehouse and the building that houses it last year. 
"We ended up with an extra space [in the building], so because we own it… we could do this," Katy said.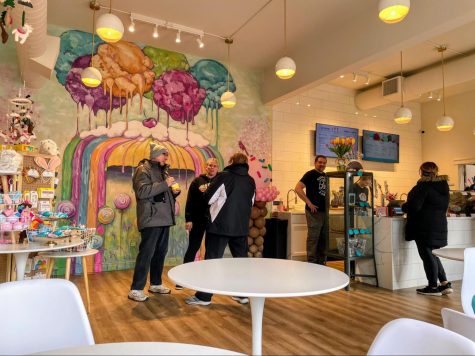 The owner of neighboring flower shop Honeysuckle & Spry, Michelle Moran, painted a mural for the interior of The Creekside Scoop, while Dale Ripp did most of the other interior work. During the summer, the Ripps hope to also use the outdoor patio and deck for creekside eating.
The shop will be open from 2 to 8 p.m. from Thursday to Saturday weekly until Memorial Day, when it will be open daily from 2 to 8, 9, or 10. The shop will be available for kids' birthday parties on the weekends before 2, where children will be able to make a do-it-yourself sundae, cookie sandwich, or another treat.
The Creekside Scoop serves a variety of Sassy Cow Creamery ice cream flavors, as well as loaded shakes featuring treats from Miggy's Bakes. Adults can indulge in a boozy milkshake or beer, while people of all ages can enjoy root beer, shakes, floats, or candy. Children's toys are also available for purchase.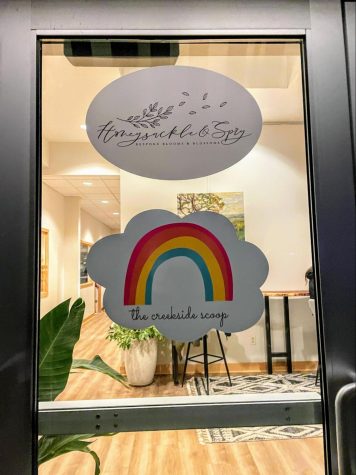 After noticing a "void of places for kids here," Katy said, she and Dale "saw a place to fill and decided to fill it."
"Our hope is that this becomes a space where people… want to bring their kids and enjoy time spent with family and friends, and also that this becomes a place that they're proud to bring people that don't live here… that they remember a place like this and remember Cross Plains."
The Creekside Scoop is located at 2020 Main Street in Cross Plains, and people can find out more about the Scoop on their website.