Girls Golf Team Crushes Conference
After two months of preparation, the Middleton girls varsity and junior varsity (JV) golf teams took home a win at Conference on Thursday, Sept. 22. The team arrived at Evansville Golf Club full of anticipation, rolling up in the team suburban followed by a parent's car painted with the punny mantra "our team drives." 
Senior Amanda Beckman, one of the captains, said it was "super exciting" to see the support from parents before the match because "you don't really see that a lot [in golf]." On the ride there, the team blasted their competition playlist and got some final advice from varsity coach Becky Halverson before warming up.
Going out onto the course, the team had little practice in the cold conditions. Prior practices had been "70 degrees or warmer," noted Beckman. It was windy at Conference, but the team was ready to showcase their improvements and take on the challenge. 
The course had many obstacles despite being in good condition. The first nine holes consisted of many lengthy par fives. Beckman described that when hitting longer shots or teeing off in the wind there are a lot of factors to take into consideration. The trees did little to protect the players, making their shots susceptible to strong gusts. Looking forward, Beckman hopes to work on the team's short game. Short game involves shots of limited distance that reach lower heights. By spending less time in the air, they can be kept consistent despite windy conditions.
As the day progressed, the players began to adapt to the course and better predict the effects of the wind. Varsity player Vivian Cressman (11) gained momentum on the back nine, scoring six pars and a birdie, one under par, on hole 17. Ellen Close (11) followed suit, scoring par for holes 12 through 16. Abbey Schroeder (12) rebounded on hole 16 with a birdie followed by a par on hole 17.
The team went into the match with ten wins and zero losses. They were ready to showcase their improvements. The varsity team is made up of five players: Amanda Beckman, Abbey Schroeder, Vivian Cressman, Ellen Close and Maddy Willcox. However, this match consisted of both varsity and JV, with an additional five players. 
Both teams had been playing well throughout the season, with nearly five practices every week starting in early August. Most practices were two or more hours practicing all different aspects of the game. 
Their work paid off. They shot a 332, putting them 50 strokes ahead of Sun Prairie West, who took second place.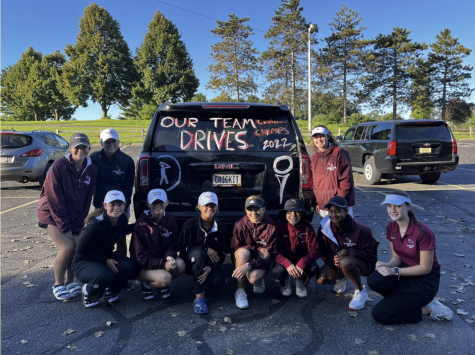 On the front nine, the varsity team finished with a 171, pushing through the cold and wind. Even though the conditions were less than ideal on the last nine holes the team pulled together and shot a 161.
Coach Halverson commented, "It was good to see their confidence come back to them." Halverson plans to use that same momentum as varsity continues on to Regionals.
Meanwhile, JV finished their nine holes with a 190, taking first place as a team. Additionally, freshman Sydney Weiss took first place individually, shooting a 46. Ariya Wickramasinha took second place overall, scoring a 47, and the rest of the team followed close behind.
Beckman explained that the best mindset to have during a big match is to "play for the team instead of just playing for yourself." She felt that remembering to qualify as a team first and an individual second helped her get past bad shots and keep a good mindset.
Season Update:
The entire varsity team placed in the top 15 at Conference and went on to take second at Regionals on Sept. 29 at Reedsburg Country Club. They hosted and advanced onto Sectionals on Oct. 3 at Pleasant View Golf Course, taking first place. The team will now continue on to State, a two-day tournament at University Ridge Golf Course. Although they may be the underdogs this year after having two of their varsity golfers graduate, the team is proud of the scores they have put up and are ready to finish the season strong.