Kanye West & the Rise of Intolerance in Entertainment
Content warning: mentions of anti-Semitism, abortion, mental illness and racism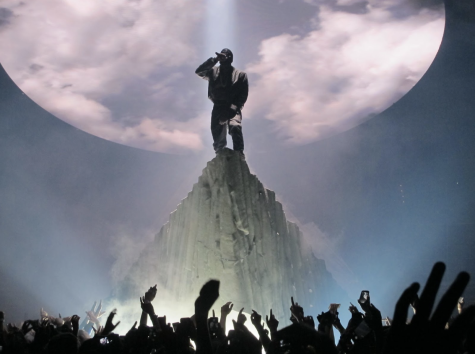 Kanye West is a name synonymous with visionary. His influence has touched almost every industry, from music and poetry all the way to fashion and design. West first found success as a producer, crafting beats for local Chicago rappers in the mid-'90s. His innovation quickly skyrocketed him to success in the early aughts and landed him a career as a solo artist. West's debut album, "College Dropout," showcased his unique introspective style and true ability as a rapper, producer, and lyricist. The album was a huge commercial success and West was awarded a Grammy for Best Rap Song in 2005, his first of many, but these accolades could not outweigh his hateful actions.
West's musical skill was not the only factor to his success, though. The same year he won his first Grammy, West protested the Bush Administration's response to the Hurricane Katrina disaster, saying, "George Bush doesn't care about Black people," on national television. This showed his extravagant personality, which, combined with his biting commentary on the world, attracted many fans who heralded him as a fearless voice for the people, unafraid to fight against injustice, no matter what.
West has pulled many stunts since, most notably his rushing of the MTV VMA's stage after burgeoning pop star, Taylor Swift, was given the award for "Best Female Video." West interrupted Swift's acceptance speech to declare that "Beyoncé had one of the best music videos of all time," humiliating Swift in front of audiences and celebrities all over the world. This outburst started a war between West and Swift's army of fans (lovingly named the Swifties). 
Most artists would never dream of pulling a stunt like that, and they would definitely not be able to keep their success afterwards, but West is not like most artists.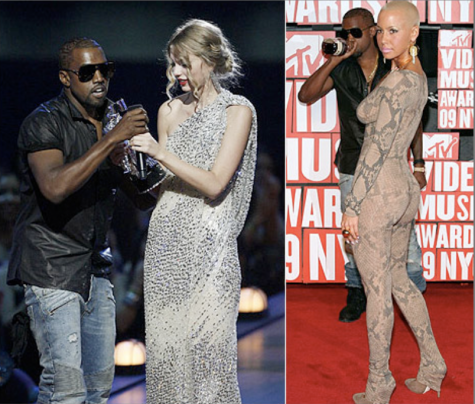 This distinction between West and other artists was deepened in late 2018 when he met with then-President Donald Trump while donning the signature MAGA (Make America Great Again) cap. 
Trump is a president known for his questionable actions towards Black people who once told a notorious white supremacist group, the Proud Boys, to "stand back and stand ready" in the midst of the Black Lives Matter protests of 2020, implying a prepared, calculated act of violence against those involved in the protests. 
West fraternizing with anti-Black figures does not stop at the president, though. West uploaded a string of tweets around the same time praising prominent right-wing commentator, Candace Owens. Owens is also active on Twitter and tweeted in 2021, "White supremacy and white nationalism is not a problem that is harming Black America." In 2019, Owens remarked, "If Hitler just wanted to make Germany great and have things run well — OK, fine."
"
West fraternizing with anti-Black figures does not stop at the president, though."
Owens' entire brand is dependent on being a Black woman who disagrees with a majority of the Black community. While Black Republicans exist and have a place in the overall political sphere, Owens' views are overly radical, intended to garner attention and further isolate the Black community. West praising her views foreshadowed his own eventual isolation from the community.
After West's interaction with Owens, West inserted himself into the community of right-wing radicals and continued his tirade on Twitter. His platform grew more Christian and conservative as he proclaimed a new identity as a born-again Christian and released his faith-based album, "Jesus is King," in 2019. This complete reversal of views was punctuated when West announced his campaign for the 2020 presidential election as an independent, under the self-named Birthday Party.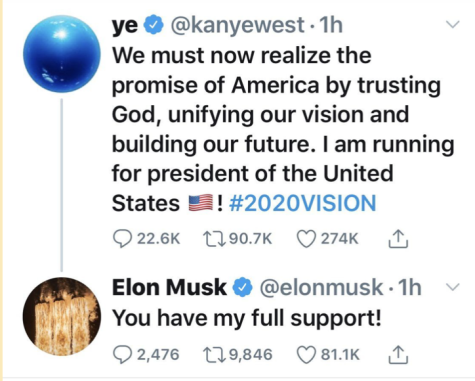 West's presidential platform was dependent on Christian values. His website, kanye2020.country, highlights each policy with an accompanying Bible verse. His policies included the reinstatement of prayer in schools and the reformation of the legal system. Notably, West is pro-life, and made that belief a central part of his platform. West planned to keep abortion legal, but during his first rally, West delved into an emotional rant against abortion, saying that he and his then-wife had considered aborting their first child, North West.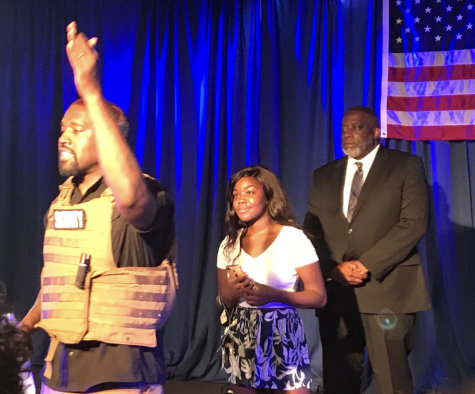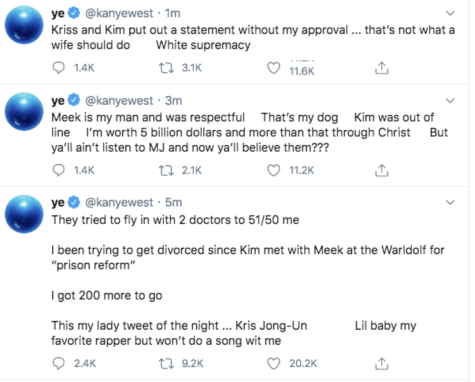 After the divorce, West turned to his online audience yet again. He released an unprecedented amount of posts on Instagram and Twitter which mostly consisted of attacks towards Pete Davidson, Kardashian's new boyfriend. One of his posts had the caption "IF YOU SEE SKETE IN REAL LIFE SCREAM AT YHE LOOSER (sic) AT THE TOP OF YOUR LUNGS AND SAY KIMYE FOREVER." (Skete is West's nickname for Pete Davidson. The specific meaning is unknown, but it is clearly derogatory.) 
West's relentless attacks on Davidson, even going to the point of threatening physical harm, were so bizarre it was hard not to pay attention. Every post gained a large amount of traction on social media, so even people who did not seek out the posts had a high chance of seeing them anyway. 
West's internet rants were not only directed towards Davidson. The details of his custody arrangement with Kardashian were commonplace on West's feed. Eventually, Kardashian retaliated and debunked some of West's claims, attempting to preserve her and her family's public image.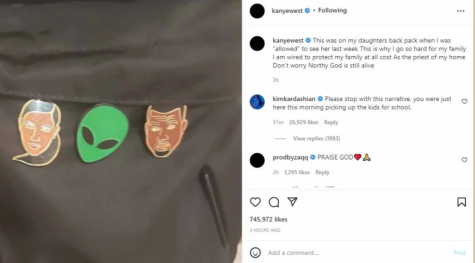 The most notable outcome of West's posts is that the comment section had more people being supportive than people rightfully criticizing West or checking on his well-being. However, the largest group of people were neither criticizing nor supporting West, but instead just watching the conflict unfold for their amusement. The fact that the audience treated his behavior as a spectacle to tune into every day (similar to his ex-wife's TV show) may have enabled his erratic and immature behavior.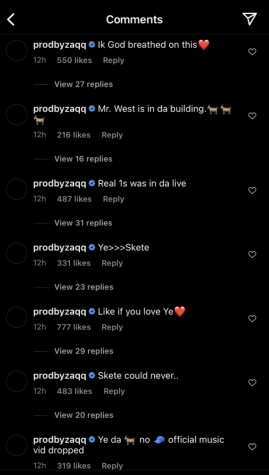 Soon after, West seemed to cool down from his obsessive posting, returning to his normal, avant-garde Instagram style. Then, Candace Owens posted a photo from West's Yeezy show which was featured in Paris Fashion Week. The photos contained Owens and West wearing shirts that read "White Lives Matter," an opposition of the movement and popular phrase "Black Lives Matter."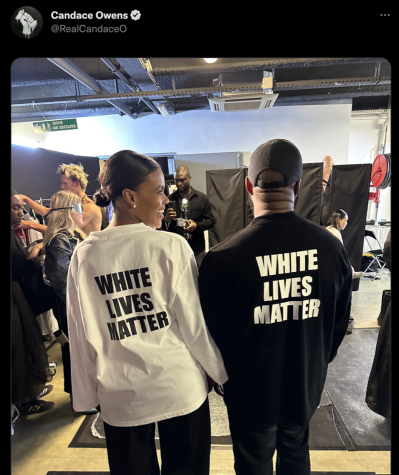 This photo sparked outrage, especially from Black fans of West. West parodying a movement based on the protection of Black lives countered everything that he stood for earlier in his career. His anti-government, pro-Black beliefs were a contributing factor to his early popularity. West's main defense of the shirt design, and a majority of his radical ideas, was the concept of "free thought." He argued that those who disagreed with him were simply afraid of new ideas.
This abrupt change in beliefs attracted a lot of attention to his social media pages. In the midst of this attention, West posted a few concerning tweets regarding his opinions on the Jewish community. West tweeted that he would go "death con 3 on JEWISH PEOPLE." This is a direct reference to DEFCON, the US Armed Forces scale to assess threats on the country. West saying this is an explicit threat of violence on the Jewish community.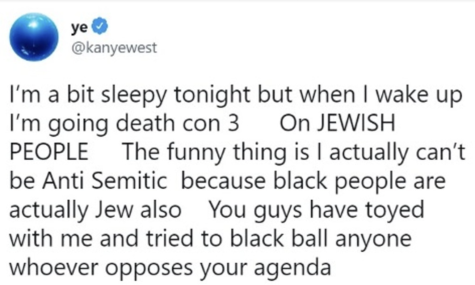 The tweet sparked a lot of initial outrage online. Not just fans but notable celebrities like Reese Witherspoon, Florence Pugh and the majority of the Kardashian-Jenner clan denounced West's comments. Many showed their support for the Jewish community, but West's tweet still hurt many. 
After a few weeks, many of West's collaborators joined in the backlash. Adidas, the licensor of West's fashion house Yeezy, cut ties with the rapper, and JPMorgan Chase closed their banking relationship. Instagram and Twitter locked West out of his accounts, suspending him indefinitely. Needless to say, a majority of the industry deemed his actions inexcusable.
Although many corporations and celebrities supported the Jewish community, a few celebrities came to West's defense. 
While hosting SNL, famous comedian Dave Chapelle defended West to an audience of 4.8 million live viewers. Chappelle claimed that the idea of Jewish people secretly controlling Hollywood is not impossible. 
Chappelle was not the only celebrity backing Kanye, though. Candace Owens also came to Kanye's defense. In the Oct. 10 installment of her "Daily Wire" podcast, Owens stated, "If you are an honest person, you did not think this tweet was anti-Semitic." 
"
West's anti-Semitic remarks were not only harmful to the Jewish population, but were also an indicator of a change in the entertainment industry as a whole."
In her statement, Owens both defended West and attacked people who believed that West's statements were anti-Semitic.
West's anti-Semitic remarks were not only harmful to the Jewish population, but were also an indicator of a change in the entertainment industry as a whole. Kyrie Irving, a famous basketball player, shares similar beliefs to West's, which suggests this mentality is spreading throughout the entertainment industry.
Celebrities who share hateful beliefs will always be supported by a small community. These fans will support their favorite celebrity no matter the severity of their claims. On top of that, celebrities will always have people in the industry, like Chapelle or Owens, holding those same values. These celebrities will feel as if their beliefs are valid because they will always have both coworkers and fans supporting them. This enabling will drown out the backlash that they will initially receive, giving them the confidence to continue the spread of these ideas. These realities are unavoidable. But if one of the most prolific rappers and tastemakers of the industry is unafraid to spread hateful rhetoric, how could that impact the future of the industry as we know it?
The views and opinions expressed in this article are those of the author(s) and do not necessarily reflect the official policy or position of The Cardinal Chronicle. Any content provided by our journalists is of their opinion and is not intended to malign any religion, ethnic group, club, organization, company, individual or anyone or anything.