Middleton's New SRO, Kim Wood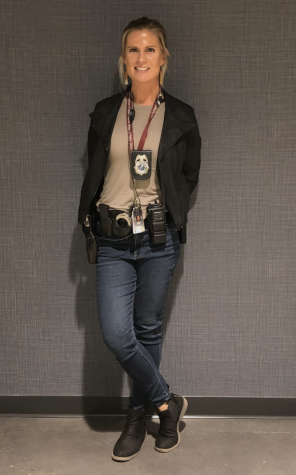 Middleton High School's new School Resource Officer (SRO), Officer Kim Wood, wanted a chance for students to get to know her and learn more about her goals within the position. You would not guess from looking at her, but Wood was raised on a dairy farm in a small town in Wisconsin. Wood says she "knew [she] didn't wanna be a dairy farmer or a dairy farmer's wife" and "[she] wanted to help people in some respect,"so she ultimately followed in her sister-in-law's footsteps and became a law enforcement officer. 
The desire to strike out on her own was not the only factor that led Wood to become an officer, however.  
"I was actually a pretty petite female growing up," she said. "So I definitely felt, I think, a sense of like I need to prove myself, too. And being a cop can be challenging physically, mentally, emotionally, and I wanted to do that not only for myself but to prove to other people that I could be that person." 
After graduating from UW-Platteville in just three years with a Bachelor's degree in criminal justice and a minor in Spanish, Wood put herself through the policing academy and went on to apply to Middleton's Police Department. She has worked for the Middleton Police Department for 16 years and has been married for 12 of them to a fellow officer, with whom she shares a 10-year old daughter. 
Being a law enforcement officer has definite impacts on Wood's life. While the job is not easy for all officers, Wood's experience as a female officer has an extra level of difficulty. 
"I think when I first started out, I wouldn't say I experienced determination necessarily, but it definitely was hard in a male-dominated field to sort of find your way," she said. "Then obviously as a woman that got married and had kids, it definitely posed challenges." 
Despite these challenges, Wood has continued to work as an officer, this year changing course a bit by becoming the School Resource Officer for Middleton High School. 
"For me I can best describe it as — I first and foremost keep people safe here," she said. "I keep the kids, staff, anyone that's in this building, around this building safe. But I think a dual-purpose role for me is to build relationships, and connect with students and staff. And bridge gaps I think are between teenagers and cops, and just try to make them feel a little more comfortable around law enforcement and have that more lowkey interaction." 
Some of the biggest reasons Wood cites for becoming a School Resource Officer (SRO) were to gain new experience and challenge herself. 
"Just being in the career for 16 years, it's important to try different things and to get different experience in other areas," she said. "I definitely was in need of a break from day-to-day patrols. But more so, just working in a school setting and working kind of in a challenging atmosphere, in an area that I came in a little bit unsure of what was going to happen."
When she was first hired for the SRO position, Wood had to navigate being back in a high school after her own experience as a teenager. This came with a variety of emotions, as it was quite different to be walking through high school halls as an adult.
"Y'know, I remember going to high school, and I did not have a very nice high school experience; and so to put myself back into a high school of 2,500 kids, I'm like, how am I ever going to connect with anybody? There was this fear I had of like how am I going to get myself integrated into, not only students, but also I have to work with admin and teachers," she said. "It was a little bit scary, to be honest with you, but I like a bit of a challenge." 
Wood's fear of not fitting in is something that almost every high schooler experiences within their academic career, so it is important to her that students see some of their own struggles reflected in the role models around them. It can help them to not feel as alone, as well as give them someone to talk to. 
Wood is now entering the fourth month of the school year, and many of those initial anxieties have subsided. "I'm super happy that I got accepted [to be an SRO at Middleton] and that I'm here because I'm having a blast," she said. 
After finding her footing in the school, Wood has goals to connect with more students during her time at MHS. 
"I would love to get involved in the hip hop program in some respect or some way, I want to get connected with the BSU and LSU groups, I would love to also find a way to get into like the ceramics department because I love art," she said. "I'm trying to start "Fistbump Fridays" just to bring this fun, energetic side of me out and get that really easy way for people to get to know me and see me." 
Those little things are also a part of her big goals to be an active community presence in the high school: "I welcome kids to come and meet me, or stop me in the hall and say hi and introduce themselves…I want my office and for me to be a place and a person that kids can feel comfortable coming to," she said. "I'm in the south main office, but you can always find me out and about too… I'm looking forward to my next three years here."