Fostering: Giving a Helping Hand to Animals
Do you like animals? Do you want to give animals a second chance at life? One way you can help give animals a second chance is to volunteer by fostering animals. There is a wide variety of animals you can provide with a loving home. There are many organizations that shelter and take care of animals, like Underdog Pet Rescue and the Dane County Humane Society, that are currently looking for foster families who provide temporary homes. Temporary homes feed them, take care of them, and provide for their needs while they are waiting to be adopted.
Experience fostering
We first started fostering at the onset of the  COVID-19 pandemic. Initially, our family did not think we were a good fit to adopt a puppy because we did not have enough time to give a puppy the love it deserved. Instead, fostering was the perfect fit for us; we were saving the lives of puppies without homes and giving them the care and attention they needed. Our first foster was a small puppy named Kori. Kori is a female, has black, gray and brown fur. She was very energetic and playful. She loved the sun and being outside. Since then, we have fostered seven puppies, which came in many different sizes and breeds.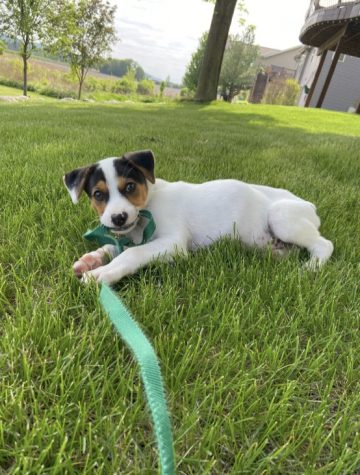 The process
Requirements
In order to foster animals, fosters must meet some requirements. 
They need to be over the age of 18.

They are required to take a written test to prove that they have the required knowledge to foster an animal.

For minors, a parent or guardian can take the test and they can foster together. 
After taking the test and being certified to foster, new fosters are assigned to a mentor who is there to help them through the fostering process and answer any questions they may have. 
Where foster animals come from
In Wisconsin, foster animals typically come from other states, and most of the animals come from the southern United States. There are multiple head volunteers who transport the animals to shelters in Wisconsin, and from there you can pick up your animal.
The animals that get fostered are animals that do not have an owner anymore for various reasons. Some of the reasons include giving up on their animals because they do not like the way it looks or because they are too much work. Some are abused, so they need a new owner.
First arrival at home
Animal rescue organizations provide fosters with a list of things their animal needs upon arrival at home. This includes giving the animal a bath, feeding it and giving it rest after its long trip. When the animal arrives usually from the organization they give the foster a package with care items, such as ointment to get rid of different bacteria that might live in their hair or skin. Fosters are also required to get their animal spayed or neutered, and the cost is often covered by the animal rescue organization. The animals are neutered or spayed one to three days after their arrival at home.
Adoption Process
Fosters often help with the adoption process. They can send pictures to adoption websites and write a status of how the animal is doing at their home. From this information, potential owners can see if the animal is the right fit for them by size and characteristics.
After the pet has been neutered or spayed, adoption applications start to roll in to the foster organization. When the foster organization receives the applications, they send the first one that comes in to the foster family. The foster family will then look through the application to see if they are the right fit. At this point, it is up to the family to decide if the applicant is the perfect fit for the pet. If they are, the foster family can meet with them, allow them to meet the animal and see how well they get along. Afterwards, the applicant decides if they want to adopt or not. If they choose to adopt the animal they will pay the organization, usually a few hundred dollars.
Main goal
The main goal of the foster process is to take care of the foster animal while waiting to find a home that is perfect for them. Foster families want each animal to find its forever home and to live a happy life. Each family's goal should be to provide a loving, safe and comfortable home for the animal until they find their forever home. Although seeing them leave is a sad feeling, it feels really good to know that you did your part and found them a perfect home. 
Rescue groups
If you are interested in animal fostering, there are many groups in the area to partner with. Learn more at organizations like Underdog Pet Rescue of Wisconsin and the Dane County Humane Society.