"Much Ado About Nothing" Was a '70s Success
Middleton High School's (MHS) Theatre department put on the performance of a lifetime in their production of William Shakespeare's "Much Ado About Nothing," set in the golden age of the 1970s. The cast and crew performed in three shows on Feb. 2 through 4 at 7:30 p.m. in the Black Box Theater, directed by Tim Gittings, a member of the American Players Theatre. 
"Much Ado About Nothing" is a popular play thought to have been written by Shakespeare in the late 16th century. The play is a romance and a comedy, with principal couples Beatrice and Benedick and Hero and Claudio. Claudio falls in love with Hero but wrongfully accuses her of disloyalty and denounces Hero before they marry, tricked by the Prince's brother Don John. Benedick and Beatrice, who are opposed to love and have much comical banter, are tricked into falling in love with each other by Prince Don Pedro, Leonato and Claudio. This story was beautifully executed by MHS Theatre, with an outstanding cast who never left the audience bored with their wit and an excellent crew helping the show run smoothly. 
There was much preparation for the show. Many members of the cast and crew had to stay at rehearsals until as late as 10:00 at night for about two and a half months leading up to opening night. Things became more thrilling as the week before the performance approached, nicknamed "tech week," when the cast and crew finalized the fine details and rehearsed as if it were a real performance. 
"Things always feel a little hectic in tech week," Gittings said. 
Amelie Harris Lasecki from Run Crew, the part of the crew whose job is to run the set pieces on and off stage, expressed a similar sentiment, saying tech week was "definitely nerve wracking," but by the week's end MHS Theatre was well-prepared to wow audiences on opening night. Every night of the show was full house and an engaged audience. The unique 1970s theme included a killer soundtrack that began as the audience sat down in their seats and amazing costumes designed by Sophie Pieters and Zephyr Wozniak.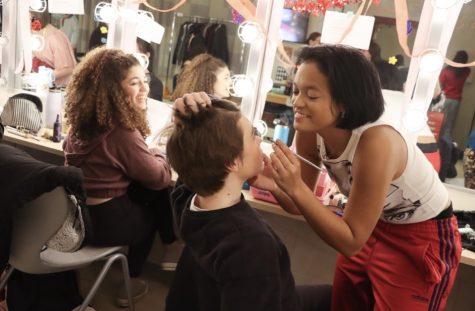 The acting was superb. Each actor in the show was fully in character, having practiced every element of their character, from their makeup to their accent and body language, for months. Actors did a great job with vocal projection and enunciation, and the audience was able to hear them clearly. The actors even engaged with the audience, which was very close to the action with three-quarter round seating.
The actors never failed to get a laugh out of the audience. Matthew Jordan, senior, who played Borachio, one of the men who deceived Claudio into denouncing Hero, was a hilarious actor, using physicality and wit, which the audience appreciated.
Alex Arinkin, senior, played Benedick, Beatrice's love interest, and he was another actor that the audience could not get enough of with his stunts, engagement with the audience and comedic banter with Beatrice. He won the audience over even though his character began as a stubborn, unempathetic bachelor. 
Another memorable character was Don Pedro, played by senior Lalou Ratsimihah, who was funny, witty and powerful on the stage. 
Kennedy Wagner, also a senior, played Beatrice, and she put on a stellar performance and shined through her powerful character.
Rebekah Stine, sophomore, put on a southern accent for her character, Dogberry, who was a constable in the show. Her performance was hilarious.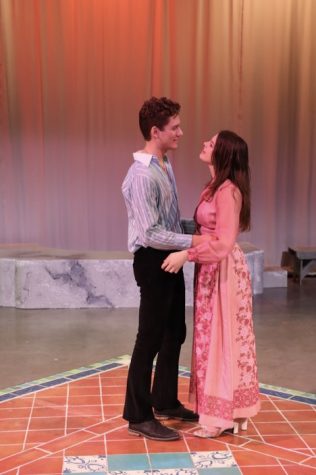 The marvelous chemistry between characters, partly accredited to the environment backstage, was well portrayed through facial expression, gesturing, body language and tone of voice. It felt as though the actors were actually their characters and that they had known each other for a long time, not surprising considering a lot of them are friends on and off stage. 
The unforgettable romantic chemistry between Beatrice and Benedick was just magical, creating a very convincing couple and representing their on-stage romance with passion. 
Hero, played by Ava Greenberg, and Claudio, played by Roddy McLellan, who were the other romantic pair, kept the audience at the edge of their seats watching Claudo's transition from loving Hero to being deceived into hating Hero. The audience was able to see Hero's heart be full of love and later on full of hurt.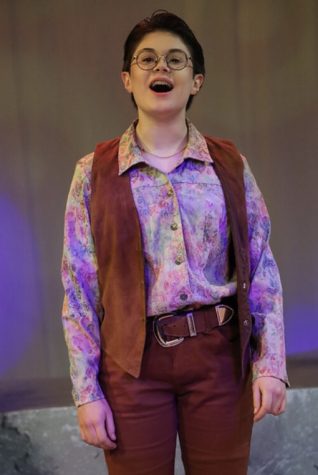 Beyond the romance, everyone loved the beautiful voice of Balthasar, played by Blu Ginko, sophomore, who sang a version of "Love Hurts" by Nazareth, and "And I Love Her" by The Beatles. Blu was the only singing character in the show and was not expecting a singing role in the play, but his talents were put to good use when he swayed the audience with his voice.
The crew pulled everything together with lighting, set design, costumes, sound and more, making the production dazzle. 
A supportive and pleasant community definitely helped the actors shine. Behind the scenes the cast and crew had created a very happy and fun environment. McLellan noted that the lively atmosphere made theater fun and exhilarating.
The show deserves a 10/10. In fact, it breaks the scale with how impressive and professional it was. The 1970s theme kept everyone entertained, and the actors also made it fun and enjoyable. "Much Ado About Nothing" was a fun watch, and MHS should be excited for the next endeavor MHS Theatre embarks on, the spring production of "Into the Woods."