MHS Hosts Another Successful Solo and Ensemble
A total of 265 performances were held at Middleton High School's District (Wisconsin School of Music Association (WSMA) Solo and Ensemble festival on Saturday, Feb. 11. The annual festival is a chance for high school and middle school students in the area to perform in front of judges and possibly qualify to advance to the state level. 
The WMSA festival was held two weeks after the high school band department's local festival, which served as a workshop for many band students. Students used the local festival as a dry run before the real day since it allowed them to not only perform in front of judges, but also receive feedback and improve their piece.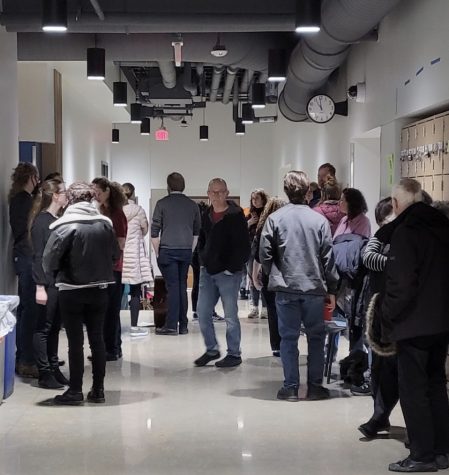 The day of the WSMA festival, students crammed the wings of the school as they waited for their performance times. Thirteen sites were set to run from 8 a.m. to 4 p.m, with each performance taking eight to twelve minutes. Judges were scheduled to receive an hour lunch if their schedule moved along as planned, but the rest of their days were scheduled down to the second. 
Each site was assigned to a specific instrument or section, allowing for more targeted judging. Vocalist rooms were concentrated on the second floor while the band and orchestra filled the music wing. A few scattered warm-up rooms were located around the building for students to prepare, but most of the hard work and practice was already done.
Students had to be ready to adapt to shifting times and unexpected obstacles. One of Madge Hayward's (9) violin strings snapped mere minutes before her solo. However, she stayed calm and was able to "figure it out" without it affecting her performance.
"I think it was a learning experience for me," Hayward said. It taught her how to navigate a more stressful environment.
Mawuenam Dossa (12) worked on his trombone pieces for months in preparation for the festival. Among other events, he took part in a trombone choir that met every Wednesday for an hour after school. The trombone choir was a mix of all high school grade levels. This gave freshmen the chance to learn from seniors and even attend workshops on how to care for their instrument. The ensemble only participated in the local festival, so members were able to focus on their own pieces for the district festival. Dossa additionally brought a solo, a duet and a senior ensemble to the district festival, and he was not the only one balancing a variety of pieces.
Percussionist Ruthie Nelson (10) had performed three solos at the smaller festival before participating in three ensembles at the district level, all of which were Class A, the highest rank. Similarly, Lalaina Ratsimihah (12) took on three vocal solos along with a mixed ensemble despite it being their first time taking part in the festival since middle school.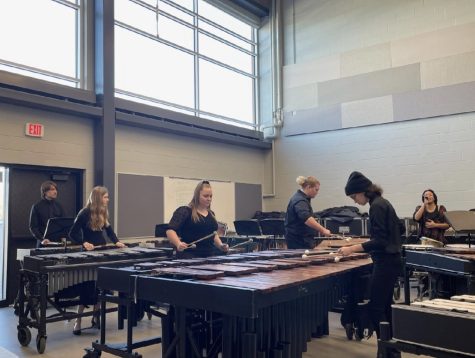 Ratsimihah said they felt nervous but was "overall excited" for their performance. Their advice to others was to manage their time. Preparing a solo can take a lot of time, but if musicians spread it out, it does not have to be stressful.
Dossa echoed the importance of preparation. As classes ramp up in the second semester, "it's harder to get practice time in," he explained. Dossa felt that preparing for the smaller festival was especially difficult because it took place only a week after finals. Despite the stress, he still thought it was a great chance to work with a judge who truly understood his instrument. 
Unlike the district festival, at the local festival, the band department was able to hand pick judges throughout the Wisconsin area who matched the needs of the student body. The time slots of the local festival were also increased to sixteen minutes, so students could receive more precise feedback. This presented band students with the opportunity to focus on growth over score.
MHS Band Director Doug Brown explained that the local festival is "formatted to be less about the individual rating, and more about the feedback" with a growth mindset. 
"No matter where you are in your development, you can only benefit from participating [in the festival]," Brown said. For some students, it is the only time they focus on their own sound outside of the band.
Brown said he notices improvement in the sound of each band after Solo and Ensembles because every single person has just been focusing on themselves for a short period. The small improvements of each individual can make a big difference in the band overall.
"I know my voice better because [Solo and Ensemble] forced me to micro-analyze every single note," Ratsimihah said. "Everything has to have a purpose behind it and a meaning." 
This focus also gave Ratsimihah a greater appreciation for classical singers and all the work they put into their performances. 
"This is not easy, by any means," they said.
Nelson felt that while Solo and Ensemble is a great opportunity, it is just one of many. The event can bring a lot of "extra stress" that is not necessary. 
"If you advocate for yourself…there are a lot of opportunities [available]," Nelson said. 
By opening herself up to other competitions and experiences, Nelson realized that Solo and Ensemble was not her only chance to work on music outside the classroom. Each opportunity "spirals into more opportunities like gigs" as long as students advocate for themselves.
Nelson's advice was to "never give up" even if musicians get a bad score at Solo and Ensemble. Music is about learning, and students can always try again. 
Except for the musicians moving on to the state competition on April 29, Solo and Ensemble has come to a close, and the orchestra, band and choir have begun preparation for their variety of spring events. The orchestra is set to have a concert March 2, and the choir is hosting their 28th annual Country Breakfast on Sun., March 5. All four Middleton bands will be participating in the statewide large group festival on March 16. Lastly, the entire Music Department will be participating in a spring break trip to explore the music of Puerto Rico on location.