The Glow Dance Was A Fluorescent Function
Every year, Middleton High School's Global Outreach Club organizes a fundraising dance that high school students are always excited to attend. This year, the dance, which was fluorescent-themed, took place in the fieldhouse on Sat., Feb. 25 from 7 to 10 p.m. The GO Dance helped the club raise money for the International Justice Mission, a global organization that combats human trafficking. Pulling the dance off took a lot of preparation.
"We'd been preparing for around two months," said Maeve Carlson, a senior leader in Global Outreach Club. 
The club prepared by splitting into three groups: decorations, logistics and advertising. The decorations group went through websites such as Amazon to find decorations in bulk for the dance, trying to make the most cost effective decisions. The logistics group reached out to adults for help and also took care of things such as the sign-up to go to the dance. Finally, the advertisement group created advertisements for the dance that were displayed on the announcements and Instagram to help boost the dance's popularity.
The club also created a song request Google Form that was accessible through their club Instagram page for people to enter their favorite songs to be played at the dance. Students were able to enter three songs, and many were actually played.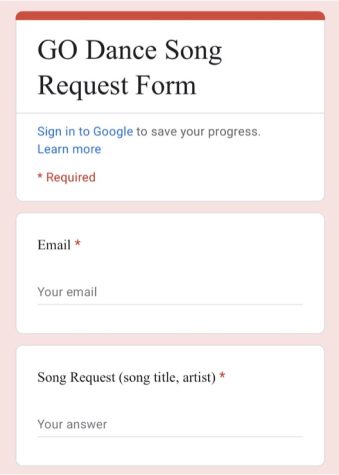 The day before the dance, members of Global Outreach Club worked on finalizing decorations, such as painting banners and making glow in the dark jars to fit the fluorescent theme. On Saturday, the day of the Glow Dance, members of Global Outreach Club volunteered to set up decorations.
The night of the dance had a great turnout. People showed up in their glamorous Glow Dance attire and were handed glow sticks at the door to make the dance glimmer. 
Key Club helped out with the coat check at the dance. Other Global Outreach volunteers took care of the concessions stand and decoration breakdown after the dance. Also, an energetic DJ was also hired and added to the fun of the dance.
The fieldhouse was filled with many enthusiastic and lively students who were not afraid to show off their moves, making dance circles where students got in the middle and impressed the crowd. Students also jumped up and down whenever the "beat-dropped" — when the chorus of a song started.
The 2023 Glow Dance had an amazing turnout, and students were able to have a fun night with their friends and enjoy a luminescent glow-in-the-dark theme.