MEASU's Spicy Ramen Challenge 2023: It Gets Even Hotter
The Middle Eastern and Asian Student Union (MEASU) hosted their Annual Spicy Ramen Challenge on Friday, May 19, with five new and returning staff members competing to be the first to finish a bowl of the notorious extra-spicy Buldak Ramen. The prize? A coveted ice cream party for their advisories, and a year's worth of bragging rights.
Michael Charlesworth, an English teacher, finished the bowl in just 40 seconds, securing the title of reigning champion and leaving last year's 2-minute 12-second record in the dust. Lori Hunt, Matthew Jefko and Griffin Schauer, joined by last year's winner Marc Brousseau, all participated in the challenge. MEASU raised $501.45 in total, with proceeds going towards earthquake relief in Turkey and Syria. 
Each year, before the challenge begins, MEASU students nominate 10 of their favorite staff members. The club then collects donations for each individual nominee, with each dollar acting as a vote. The five staff members who receive the most donations are chosen to participate in the challenge. 
Donations opened each lunch and advisory for a week before the challenge. Students gathered around a table managed by MEASU members to place donations in jars, labeled with each nominee's name. Over the course of three days, the jars began to fill up. 
Donations also served to increase the spice level of the competitors' ramen. For each $20 collected, an additional shake of black pepper was added to the dish. Once donations surpassed $200, red pepper flakes and Tabasco sauce also made the list of ingredients. Donations ultimately fell just short of adding The Last Dab, the famously spiciest sauce used on the show "Hot Ones."
After the lineup of teachers was finalized, with Schauer switching in at the last minute, MEASU's Spicy Ramen Challenge was ready to commence. Competition was fierce as the participants geared up to win the victory for their advisories. 
Hunt, a computer science teacher, was confident in her ability to win. "I eat spicy food for breakfast, lunch, and supper basically every day," Hunt said. She attempted to place bets on herself, but was unfortunately asked to wait until after the contest to take out her wallet.
Brousseau described feeling "hesitantly confident," although apprehensive under the pressure to defend his title. His experience last year left him dreading not the initial burn but the aftermath, culminating in a succinct strategy: "Brain off, mouth open."
Charlesworth, competing for the first time, explained that his motivation to enter the challenge was to win the ice cream party for his advisory. 
"Well, this being my first year as a teacher, I don't have a lot of money. And my advisory has been asking for an ice cream party all year. So I figured this was an opportunity to win a free ice cream party," Charlesworth explained.
When asked to rate his spice tolerance, Charlesworth answered, "I don't really know. I eat jalapeños every day because I eat the same thing for dinner every day and there's jalapeños in it. [But] I've never tried The Last Dab, Takis, or any other nefarious spicy things they have in the world these days. So this'll be an adventure."
Jefko, a social studies teacher, was "very, very nervous," but relieved that The Last Dab did not make the ingredients list. 
"The Last Dab might have ruined my day, and multiple days, in fact," Jefko said.
He estimated his tolerance to be at around 100,000 Scoville units but made it his primary goal to avoid vomiting. 
Scoville units, according to the National Institute of Standards and Technology, are a unit of measurement that shows the intensity of a pepper's spiciness based on its amount of capsaicin, the chemical that creates spicy flavor. Buldak Ramen, at 10,000 Scoville units, is one of the world's spiciest instant noodles. 
After Schauer, a social studies teacher, took his seat at the last minute, the challenge officially began. 
At the shout of "Go, go, go, go!" the five participants began eating. Brousseau held his plate with one hand and shoveled noodles into his mouth with the other. Schauer took a more cautious approach, pausing between each mouthful to chew. Charlesworth kept his head bowed, while Hunt seemed to experience some discomfort in her throat. 25 seconds in, Brian Byrne, a social studies teacher, walked up to Jefko to offer support by shouting "Go!" twice. Jefko nodded, pounding the table, and picked up his plate to continue eating.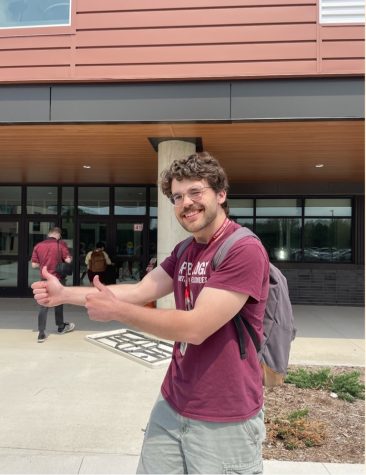 Approximately 40 seconds in, Charlesworth dropped his fork into his empty plate, having licked it clean. The audience erupted in applause, and the four other participants bowed down to Charlesworth in admiration. After winning this year's title, Charlesworth's first reaction was that he could not think, but said he felt accomplished for earning his ice cream party.
"How am I feeling? I don't even know – it's so hot. It's so much hotter than I thought it would be," Jefko said, face flushed with heat.
Hunt joked that the competition was rigged, pointing to Charlesworth's plate and claiming that she received more ramen. Although feeling the effects of the spice, Schauer claimed that it hurt much less than losing horribly. 
When asked if he regretted taking up the challenge, Schauer replied, "Not for a second. Ask me in an hour though? Probably, probably."
Brousseau pinned his loss on experiencing "spice hiccups" that he managed to avoid last year, commenting that the ramen was even spicier this time. He offered his congratulations to Charlesworth.
Charlesworth shared that he was able to avoid choking on the pepper flakes by flipping the noodles over before beginning to eat. He also discussed other strategies he was considering, including wearing the snorkeling goggles he had brought to school in order to block the smell of spice and wearing a helmet. Although he did not end up using either of those strategies, afraid that blocking off his breathing with goggles would make the spice worse, and ditching the helmet for other reasons, Charlesworth is thinking about wearing a costume next year if he participates again.
MEASU plans to continue the tradition next year, and students look forward to seeing new challengers take on the spice.