Middleton High School Theatre will perform its production of "Urinetown" through the end of this week and into the weekend. Students will perform the show on four consecutive days, starting on Nov. 9 and ending on Nov. 12. The first three shows will begin at 7:30 p.m. and the final show will begin at 2:00 p.m. All performances will take place in the Middleton High School (MHS) Performing Arts Center (PAC).
Students began work on the musical even before the start of the 2023-2024 school year, with their extravagant float in the Middleton Good Neighbor Parade. What has been a long and intense process of constructing a show will all be made worth it during the four upcoming performances.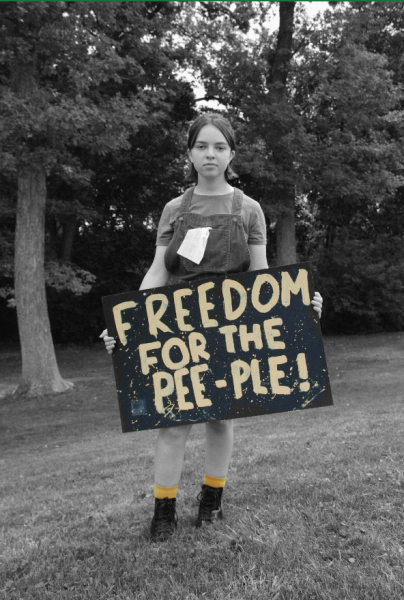 The show, with music by Tony Award-winning Mark Hollmann and lyrics by Hollmann and Greg Kotis, is a satirical comedy that delivers an impactful message to its audience. Via its many clever pee-related jokes, "Urinetown" comments on the horrors of capitalism, corrupt legal systems and bureaucracies. 
The story follows a young hero named Bobby Strong, played by junior Owen Sehgal, as he rebels against a company capitalizing on a private toilet ban caused by an intense water shortage. All the while, Bobby is falling in love with Hope Cladwell, the daughter of that company's CEO, played by sophomore Ava Greenberg.
Brimming with impressive acting, chilling vocals, orchestra and a student-run stage crew, this production is excitedly anticipated by the Middleton community and MHS Theatre members. For more information and tickets, visit the MHS Theatre website.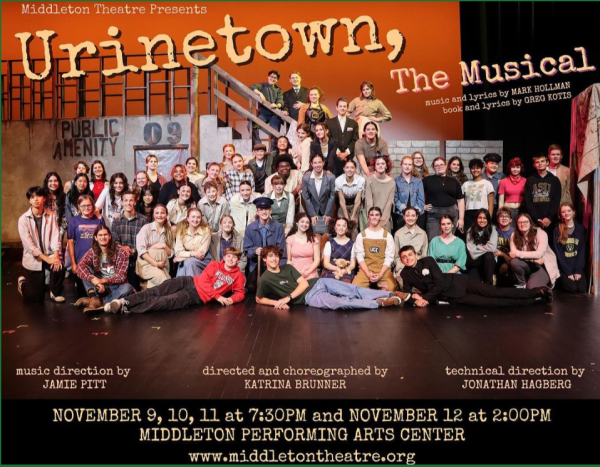 Urinetown Cast
Bobby Strong – Owen Sehgal
Hope Cladwell – Ava Greenberg
Little Sally – Isa Killian
Penelope Pennywise – Reese Johanningmeier
Caldwell B. Cladwell – Liev Schiffman
Officer Lockstock – Linus Ballard
Officer Barrel – Rebekah Stine
Dr. Billeaux and Tiny Tom – Max Malyk
Ms. McQueen – Anya Schoolmeesters
Cladwell's Secretary – Selah Streets
Senator Fipp – Luke Latino
Joseph "Old Man" Strong – Remi Coleman
Robby The Stockfish – Logan Borgmeyer
Soupy Sue – Mallory Peters
Hot Blades Harry – Ben Freiberg
Little Becky Two-Shoes – Lily Hanson
Billy Boy Bill – Emi Carranza Montes
Josephine Strong – Sylvie Schmitz
Mrs. Millennium – Kylee Beyer
Urinetown Ensemble: The Poor, Office Staff and The Rebels 
– Harper Carlin
– Samond Curry
– Katie DeCabooter
– Karista Deuhs
– Madge Hayward
– Ari Marckel
– Maddy McMahon
– Brooke Misch
– Marissa Joyce
– Audrey Vandervest
– Josie Vandervest
Urinetown Crew Leads
Stage Management – Aadhi Balasubramanian
Lighting – Aydin Rosas
Sound – Juliette Mandelbrot, Julia Burkholder
Costumes – Keira Marckel, Star Tangwall
Hair and Makeup – Lennon Maher
Props – Leela Benson, Ashton Cooper
Set – Adrian Strasma
Rail – Hailey Beean
Run Crew – Amelie Harris Lasecki