Album Review "Culture 2" by Migos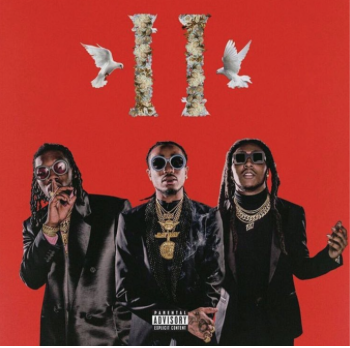 Quavious Keyate Marshall, Kiari Kendrell Cephus, and Kirshnik Khari Ball, better known as Quavo, Offset, and Takeoff form the critically-acclaimed rap trio, Migos. All three of these artists are from Atlanta; a rap haven. Many other rap artists hail from Atlanta, such as 21 Savage, Gucci Mane, and Lil Yachty. The name Migos comes from the Georgia drug trade. A "migo" is an abandoned house used for the production of drugs. Migos have won the 2017 BET Awards for Best Group, and on their song "Bad and Boujee (feat. Lil Uzi Vert)". They were also awarded Best Collaboration at the 2017 BET Awards. Migos have recorded three albums, Yung Rich Nation, Culture, and Culture II, all while signed with the record company, Quality Control Music Productions.
When I discovered Migos was releasing a new album titled Culture II, I immediately expected an expansion pack to Migos previous album, Culture. I was wrong. Throughout the album, Migos apply many new styles that they have not used in previous albums. Culture II is almost twice as long as Culture, with 24 tracks.
Consistent throughout the entire album, is the use of the triplet. A new style Migos uses is a Latin beat on the song "Narcos." Unlike Culture, many of the songs on Culture II, have no features.
Some of the most popular songs on Apple Music from Culture II are "Narcos," "BBO (Bad B****** Only) [feat. 21 Savage]", "Walk It Talk It (feat. Drake)", "Stir Fry," and "Notice Me (feat. Post Malone)".
Track List:
Higher We Go

Supastars

Narcos

BBO (Bad B****** Only) [feat. 21 Savage]

Auto Pilot

Walk It Talk It (feat. Drake)

Emoji A Chain

CC (feat. Gucci Mane)

Stir Fry

Too Much Jewelry

Gang Gang

White Sand (feat. Travis Scott, Ty Dolla $ign & Big Sean)

Crown the Kings

Flooded

Beast

Open It Up

MotorSport
Migos, Nicki Minaj & Cardi B*
Movin Too Fast

Work Hard

Notice Me (feat. Post Malone)

Too Playa (feat. 2 Chainz)

Made Men

Top Down on da NAWF

Culture National Anthem (Outro)
*MotorSport is co-produced by Migos, Nicki Minaj & Cardi B. Nicki Minaj and Cardi B are not exactly featured.