Student Senate: Past, Present, and Future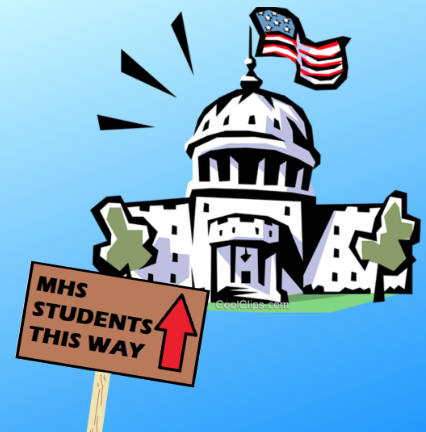 The spring of 2015 was a season of change at Middleton High School. The parking lot shook off its coat of ice and basked under the sun; flowers, hiding in the frozen ground, inched their buds towards the surface; and inside the building, an organization called Senate melted with the snow.
Four years later, spring is ushering in change again. Only, this time, Senate is pushing its way to rebirth with the flowers. 
On April 2, 2019, MHS students will vote for two students to represent their grade in the new Student Senate. The election will go down in the books as an exciting chapter in Middleton High School history.
However, to fully understand the impact of this election and how the newly reformed organization will change our school, we need to flip back a few chapters in our history textbook.
We need to rewind to 2015 when the former Senate program at Middleton was officially disbanded. From there, we can journey onward through time to examine the history of this organization, the differences between the new Student Senate and its predecessor, the proposed model for how Student Senate will work, and the journey of its creation this school year.
Old Senate
The original organization had a one-word title, Senate – which is different from the current title, Student Senate. The name reflected the makeup of the organization at the time, as it was created in the 1990s with the intent "to be a combination of staff, parents, students, and then the building principal," principal Dr. Stephen Plank explained.
Students were voted in, two representatives per grade level. When Senate started, only upperclassmen served as student representatives. In the 2014-15 school year, however, that expanded to include underclassmen. Members of the administration were also invited to attend meetings, as were some parent representatives.
The students were outnumbered by the adults, which was a source of dissatisfaction for some students, including Heidi Knoche (Class of 2015), who served on Senate during her time at MHS.  "To me, by the time you're in high school, I think it's more on the students to voice their opinions and that they're capable of taking care of the issues that the parents might want to raise, but I think it's more relevant if it just comes from the students," she said.
Senate discussed a broad variety of school-related issues. Natalie Grande (Class of 2015) was a Senate representative during both her junior and senior year at Middleton. A campaign video she filmed for her senior year (the 2014-15 school year) illuminates some of the discussion topics at the time; "My biggest success from last year was returning Lee Street to a two-way and fixing the parking lot chaos," Grande proudly declared in the video. She described other key issues on her platform, including insufficient passing time, the "mystery" of the 30 mandatory minutes called Cardinal Success, and the ASR check-in process for seniors.
The video suggests that student representatives on Senate focused on daily student life at Middleton. However, the same was not true for the adults involved. Knoche said that the parents' complaints were not always relevant to daily student life. The conversations also were not focused on the students, she explained, saying, "[The adults] didn't discredit the ideas that we gave, I think they were just dismissed faster. We didn't divulge into issues brought up by students as much. Which isn't necessarily the parents' fault; that would also relate to administration." Despite this, Knoche said, "I think it was the best voice at the time. It was the best way to get issues to the table and addressed, but I think that the students weren't the primary focus of that group. A lot of the attention was put on the parents who were there."
Grande had a similar opinion. While she felt that the adults respected her voice, "I don't know if things [that students brought up] were implemented as quickly," she said. Still, Grande thought that the parents' perspective was an interesting aspect of Senate. "Although you're an adult [in high school] . . . your parent still has such a direct impact on your life," she said. "So I understand why parents were involved."
From the students' perspective, the administration did not have as much personal stake in Senate. "I think it was kind of a time burden for the administration," Knoche said. ". . . I think the parents and the students were really interested in it because it was pretty much the only chance that we got to directly talk with administration about some of these issues, but I don't think administration particularly liked it."
In the 2014-15 school year, Plank became the new MHS principal. Knoche had a positive view of the new administration, saying, "I think Dr. Plank, because he was new, was really open to hearing about what the students had to say. I think it became more receptive to that." Knoche felt that parents wanted to get more involved when Dr. Plank came in, because "everyone just felt like they had more of a voice."
Why Senate Disbanded
When Plank arrived at Middleton High School in 2014, he had heard that Senate had been effective for quite some time. However, as the school year progressed, Plank felt that Senate "had kind of lost its way." The group met throughout the 2014-15 school year, but "nobody seemed to be thrilled about it," Plank said.
Only some parents regularly attended meetings, and they felt that they did not accurately represent all MHS parents' views. The staff didn't need to attend Senate meetings because they had other ways to communicate with one another. The students, from Plank's perspective, did not seem to think that Senate was a useful tool. "Their sentiment was this just doesn't really seem the venue to have really purposeful dialogue," he said.
Grande said that few people who were involved actually showed up to meetings, "which might have been one of the issues with it." There was also little engagement with Senate from the overall student body: Knoche described that the turnout rates for elections were very low.
One former Senate member, who spoke on the condition of anonymity, felt that the principal before Plank valued the program. "But then Plank came in, and he kind of came in on his high horse," the student said. "He heard what we were saying, but he wasn't listening – and that goes for the parents as well. He just wasn't listening, and I think [Senate] fell apart because he didn't value the program. Where the principal before valued it."
Plank was, indeed, seriously questioning the efficacy of the group. "Are we effective? Are we accomplishing anything?" Plank remembered wondering. "By the time the fall of 2015 rolled around, the general consensus was, we're not getting anything done, and this probably isn't very effective."
Senate agreed to take a hiatus and see if that resulted in any negative ramifications. Six months later, the school body was functioning as well as before, with barely a ripple from the removed Senate. After seeing that the removal had almost no impact at the school, the group decided to disband.
In-Between Old and New
After Senate disbanded, there was seemingly a void. "It wasn't like things had consistently just kind of gone away," Plank said. He was still searching for a way to hear student voice in his role as principal.
During the 2016-17 school year, Plank tried to meet with students in different settings. He had conversations with randomly selected students, revived the athletic group the Captain's Table, and attempted to use other club leaders to engage in conversations. However, Plank said that none of these attempts met his goal.
Student Voice Union, which had been created in 2014, also started fading away in the 2016-17 school year. The concept of these various student voice groups not being sustainable became a large part of the conversation in the 2017-18 school year. Springboarding from that, the Student Equity Coalition (SEC) was developed, a patchwork of students from leadership positions in various clubs. However, it seemed like the SEC was duplicating what other clubs were already trying to accomplish, and it quickly faded away.
While the administration was trying to connect with students in the building, the students themselves were also searching for ways to amplify student voice during these years.
Abhav Soni, a Middleton junior, approached Plank late in the 2017-18 school year with the intent of forming an equity group at MHS. He wanted the group to represent the voices of minorities at the high school, but as time went on, Soni thought, "Why don't we just try to make a student group which has the voices of all students, not just a minority focus? Even though that's very important, I thought maybe we should open it up a little bit more."
Plank realized that he and Soni had similar hopes, as Soni wanted student voice at the forefront of conversation, and Plank wanted to have dialogue with students about the school. In September, Soni started looking at other schools' equity and student voice programs to draw inspiration. He began drafting the bylaws for an equity organization at Middleton High School.
Max Prestigiacomo, a Middleton senior, came into MHS his freshman year (the 2015-16 school year) looking for a forum through which he could impact the operations of the school. He attended a Student Council meeting but found that that failed to meet his aspirations. Student Council plans student activities and dances such as Brain Bowl and Prom, but they don't have much, if any, impact with the administration and how the school operates on a day-to-day basis.
Prestigiacomo was passionate about students having a voice in education reform, so he started searching for a platform that could serve this purpose. He found the old Senate page on the Middleton High School website and approached Plank about the program. Senate was still technically an organization at that time, on hiatus instead of fully dissolved. Prestigiacomo decided to wait for Senate to be reintroduced so he could run for a seat. However, Senate disbanded later that year.  Prestigiacomo spent his sophomore and junior years participating in other student clubs and activities, but by the time his senior year came around, he knew that he wanted to restart Senate, this time calling it by a new name: Student Senate.
In the 2018-19 school year, Prestigiacomo teamed up with sophomore Annie Warriner to achieve this goal. They decided to start in the early fall by lobbying the school board for a student member. Then, in November, many students, including Prestigiacomo, demanded the reinstitution of Student Senate at a sexual assault protest at MHS.
A few days later, the administration held a meeting with many of the protest organizers. When Prestigiacomo explained his idea, Plank was reminded of Soni's equity group project. Plank told Prestigiacomo about Soni's efforts and encouraged the two to collaborate. The ball for Student Senate started to roll.
Issues Throughout the Year
It wasn't easy to reconcile Prestigiacomo's plans for a new Student Senate with the student voice groups that Soni and Plank had envisioned. Plank was looking for a student advisory group that he could use as a sounding board for ideas that the administration was considering. Soni was pursuing a group with an equity focus. Prestigiacomo was seeking a legislative body that would give students the power to enact policy change. These different goals led to some crossed wires and misunderstandings.
There were some immediate questions to consider. "How do you shape a group of people who are representative of their peers?" Plank remembered questioning. The different answers led to confusion between members of the planning committee.
Some students feared that Plank was looking to appoint students to Student Senate instead of the grade representatives being elected. However, this misunderstanding stemmed from Plank and Soni's earlier attempts at forming student groups. When Plank was attempting to create a principal's advisory group, he reached out to students however he could, whether it was completely random or targeted. In addition, Soni's earlier equity group had been loosely outlined to be comprised only of equity club leaders at Middleton High School, with no elected student representatives from the grades. In this outline, clubs would select their own representatives. Neither of these groups involved an election, which was the source of concern for some students on the planning committee. However, the planning committee was able to develop a new format for Student Senate: elections for grade representatives.
Plank raised some concerns about the elections. "I wonder who [an election] weeds out when we're trying to diversify the student voice," Plank said. ". . . Without even wanting to, are you becoming exclusive? And are you losing some really critical voice amongst the student populous because you've got to run this campaign, and then a big election?" The group nonetheless decided to continue with an election basis, assuaging Plank's concerns later when they decided to reserve one spot for each equity club at MHS.  
In deciding how students would become a part of Student Senate, another issue was raised: whether or not founding members should be written into the bylaws. Some thought that the students who had worked hard behind-the-scenes deserved to have their voice guaranteed. Others thought that it was unjust to supersede the election process. Ultimately, the group voted not to have any founding members written into the bylaws and only have members according to club appointments or elected student grade representatives.
Throughout the year, there were a lot of different opinions about the pace at which Student Senate was moving.
Prestigiacomo was frustrated that the students had to keep slowing down for administration. "We want to work at the pace we feel comfortable with," he said. "We don't want to wait for [Dr. Plank] to have thirty minutes for us every week, because at this pace we won't get this done until next year, and there are a lot of us seniors that have issues we care about, and leaving without knowing we have a guaranteed student institution is set up is just a little bit frustrating. . . . We're not going to slow down student voice because you schedule meetings a month in advance and we can never catch up with that."
Plank explained the administration's point of view: "It's gone hot and cold. There are times that I think we're fine, and there are other times that I don't know that the students and I are always aligned," he said. ". . . I would rather take the time to get it done well, so that if this year becomes a year of a lot of behind-the-scenes, prep work, and development, that as we get a group pulled together, and the year starts to come to a close, it gives us momentum going into next year. I would rather do that and do it well than have things kind of fall apart." Plank said that the process has been an "evolution," but it's worth it.
Soni understood the administration's point of view. "I thought that at times we needed to slow down to catch administration up because . . . the bylaws [say] that students will work in conjunction with administration," he said. "So although it can be a little bit frustrating to have to always tell administration what's going on, it's necessary, ultimately, so that we can make sure that we're always working together." Soni pointed out that the many snow days at the beginning of the semester did not help with keeping administration and students on the same page about where they were in the process.
As Student Senate progressed, some people in the planning committee raised concerns about the election date, which was initially set for March 8. There was growing concern that the allotted time was not enough to inform students of the organization. Plank said that at one point, the planning committee had received a bunch of nomination papers for people who wanted to run for Senate, but they were students who were already involved in the MHS community. That wasn't the goal, and Plank thought that it might suggest that they didn't market Student Senate well, or that they tried to market it too quickly. For him, it raised the question: do people even know what this is about?
The group decided to postpone elections until April 2. Some people may wonder why we're still having Student Senate elections this year if there will only be a little over two months left for the Senators to enact change. Various members of the planning committee explained that most of the rest of this year will be spent finalizing what Student Senate is, its guidelines and restrictions, and how it will operate. In essence, this year is a test run.
The Goals of Student Senate
Although there have been conflicts and disagreements throughout the process, everyone who is involved in the creation of Student Senate is working towards a positive goal. The slight differences in these goals, while causing conflict at the beginning, ultimately resulted in a stronger, more well-rounded institution that serves more than one purpose in the school community.
Prestigiacomo said that he views Student Senate "as a student voice institution where students can come together and discuss and draft policies that they think will improve student life, with, of course, collaborating with administration." He explained that to him, drafting policies will allow students can write out what they want administration to do and why they want them to do it, without actually forcing anything on the administration.
In a separate interview, Plank added his opinion to the goal of Student Senate affecting policy. He explained that district policy exists to make sure that the MCPASD schools follow state and federal laws; normally in discussions about how the school runs, the administration is not messing around on that level. For the topics Student Senate wants to cover, Plank said, "I think it's a bigger discussion about philosophy than it is about policy. Or it's about understanding context of philosophy within the rules that we have to follow."
Plank started the process of Student Senate hoping to form a principal's advisory group that he could use to pitch ideas to students, such as decisions about the upcoming building referendum, and hopes that Student Senate can still serve this purpose. In addition, he hopes that he can help students create the school they want to have. "This is a conversation about what school feels like for you, the student," Plank said. "It's your school, after all, and when you graduate, you'll be an alum of Middleton High School forever. As an adult who works here, we kind of pass through. Even somebody who's maybe here for 20 or 30 years, at some point, you're still passing through. Whereas students, this is like your home, forever. It becomes your alma mater."
From Soni's background of originally developing Student Senate as an equity group, he said that at the end of the day, his goal for Student Senate is to represent the voice of every student at MHS.
Plank agrees with this goal. "I don't think we want the old version of Senate, where there's parents there, and staff – we don't need that," he said. "It can be me as a constant for administration; it can be other administrators who come and are invited into conversations . . . And I think for people to understand that yes, this is definitely different than old Senate, and the desired outcomes are positive, and to be collaborative and to create a better place for everybody – that's all good stuff."
The overall goal of Student Senate, Prestigiacomo explained at the end of his interview, citing the mission statement, "is to create an organization that fosters healthy student voice." When asked what healthy student voice means to him, he explained, "When [students] see an issue, they shouldn't just brush it off and be like, 'Oh, I'm leaving in four years,' or like, 'I'm leaving soon, it doesn't matter.' They should say that, 'Oh, I want to change that, not just for myself but for my siblings, my peers, and everyone else that's going to come after me.' And I think that right there is healthy student voice."
The Details of the Operation
Although some decisions will not be made until there is an elected mandate to vote on them, the planning committee has already outlined large sections of how Student Senate will operate.
An important distinction to note first is that Student Senate is not a club. It is an umbrella organization that will encapsulate every student organization at Middleton, including clubs and athletic groups.
The bylaws require that a majority of Student Senate must be comprised of elected senators that have received a mandate from the student body. Two representatives per grade, plus two representatives from the student athletic group the Captain's Table, comprise the elected body. The rest of Student Senate is filled with one representative from each equity club at MHS, of which the planning committee has currently identified eight: Middle-Eastern and Asian Student Union, Student Voice Union, Black Student Union, Latinos Unidos, Unify, Girl Up, Sexuality and Gender Equality Club, and Stand. Altogether, this totals 18 student members of Student Senate. The final number may change slightly depending on how the elected mandate defines an equity club.
Administration will also attend Student Senate meetings. Any administrative members that want to participate are welcome, but the bylaws specify that the principal must be present at all Student Senate meetings.
Once senators are elected, Student Senate will be divided into three committees – policy, activities, and equity. The committee breakdown ensures that no one area of student life at Middleton falls through the cracks of conversation. The process of how senators will be sorted into committees has not been decided yet and is likely something the elected mandate will finalize.
Elections for grade representatives are on April 2. The ballots will be electronically delivered to every student's school email, similar to the voting process for CARDS court during Homecoming. The dialogue that Student Senate will create between students and administration will hopefully ensure that student voice is never forgotten. Remember to vote and make your voice heard!