Middleton High School Administrators Change Policies After Teacher's Fine Arts Week Drag Performance
Following a drag performance put on by French teacher Matthew Kashdan during Fine Arts Week (FAW), Middleton High School (MHS) administrative staff have decided to use a vetting process for future staff acts at the Staff Variety Show.
Fine Arts Week is an annual event at MHS where staff and students are given the opportunity to perform in front of their peers. The week of performances ends with the Staff Variety Show. In the past, staff acts have not been reviewed before the show, with Principal Peg Shoemaker saying that she was "surprised" by Kashdan's performance.
In the future, staff acts will undergo a vetting process in order to "mitigate [conflicts] in advance," Shoemaker said. "I want to make sure that staff… are not put in situations that cause harm to them."
Shoemaker and Superintendent Dana Monogue are unsure of what this vetting process will look like outside of "a time to pause and make sure that all perspectives are considered," Monogue said. "As a district, [we] want to make sure that we are doing everything we can to keep our kids safe, to keep our faculty safe."
Shoemaker noted that MCPASD allows students to opt out of certain activities, including movies or units in health classes. While she has not had the chance to discuss specifics, she is listening to parent concerns as she moves forward.
Over the past week, the district has received dozens of messages in support of and against Kashdan's performance. Monogue noted that it is difficult to give an exact number, as messages have been sent through many different channels, including over email, over the phone, and to many different administrative personnel. Additionally, not all feedback has been from community members, with some phone calls coming from as far as Alaska, likely due to the performance's national media coverage. She estimated that about 90% of the messages expressed negative feedback. 
Shoemaker noted that it is difficult to factor in all community members' beliefs, as everyone has their own perspective and "interpretation of the art form." 
"I do need to represent all kids and all parents and try to create a culture of belonging for everyone instead of a divisive, hateful conversation," she said. "If I'm one way or another, that's always leaving somebody out… what I feel personally is a whole different story, but I don't bring my beliefs into it."
On Monday of last week, staff had a meeting after school to ensure all members were aware of the media attention and parent complaints MCPASD was receiving. Following this meeting, some teachers have chosen to discuss the media controversy in their classes, while others have not. Shoemaker made it clear that this is something she has not prohibited, and that she has encouraged staff to "respect all identities in our school."
An email sent to parents on Wednesday, April 13 addressed the performance, introduced the vetting process, and announced Kashdan's resignation. The email was written by Superintendent Monogue and the MCPASD Public Relations team, along with Shoemaker and other principals from the district. 
Kashdan was aware that the email was being released and agreed to share information on his resignation, which was unrelated to his performance and formalized weeks in advance. Shoemaker clarified that the email included information on his resignation to prevent rumors about Kashdan's reason for leaving MHS.
The email was criticized by students for its "lack of clear response" in support of LGBTQ+ students and staff, said Hannah Nygard on behalf of Sexuality And Gender Equality (SAGE) Club. 
"The lack of immediate [public] support for Mr. Kashdan was quite distressing for many of our school's LGBTQ+ students […] SAGE hopes that with a deeper understanding of the importance of Mr. Kashdan's performance and the need to support it, more students, teachers, members of district administration, and the media will express their full support for Mr. Kashdan and his performance," Nygard said.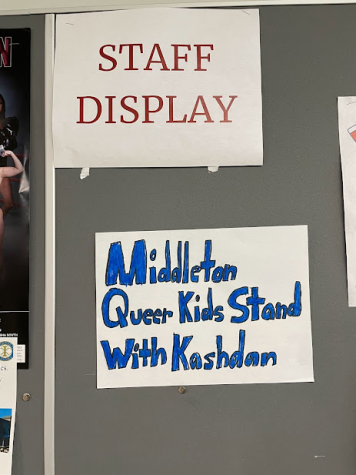 After feedback from LGBTQ+ staff members, Shoemaker and Monogue sent out new emails on April 14, with Shoemaker's going to students and Monogue's going to staff. Both emails expressed their support for the LGBTQ+ community.
"The events of this week have caused many students and staff to question the district's support of the people who identify as LGBTQ+. I want to make it very clear that we love and support our students and staff who are a part of the LGBTQ+ community," Monogue said in the staff email. "The messages that have been sent to our families in response to the staff talent show last week were meant to communicate our ongoing commitment to an inclusive community."
Kashdan expressed his gratitude towards students and staff for their ongoing support, especially "Principal Shoemaker and the rest of the MHS administration, who have been on my side since this all started," he said.
Shoemaker has been in contact with Kashdan to ensure he is being supported as necessary. Additionally, she plans to meet with SAGE members in the coming weeks. 
"I am willing to engage in conversations. I have an open-door policy," she said.
Shoemaker also noted that she would be willing to have a drag performance at Fine Arts Week again, but she would inform families ahead of time "so they can make their own decision on whether they [are] comfortable with the performance."
Both Shoemaker and Monogue stated their commitment to representing and supporting all students.
"We're always striving to create a community in all of the district places and spaces… where [everyone] can feel comfortable showcasing their passions, their interests, and that is cultivated every single day by the actions that we take, by the relationships that we build, by the messages that we send, by the communities that are established. And so I also wanted to reiterate that this is an ongoing commitment, an ongoing process," said Monogue.