Students at Middleton High School Respond to Teacher's Fine Arts Week Drag Performance
After Middleton High School (MHS) French teacher Matthew Kashdan's drag performance during the April 9 Staff Variety Show sparked right-wing criticism last week, a group of students organized a walkout during lunch and advisory on April 14.
Kashdan's performance took place during Fine Arts Week (FAW), an annual event at MHS in which students and staff sign up to perform talents related to the fine arts in front of peers. Student protesters wanted to defend Kashdan after outcry on social media called the performance "predatory" and "overly sexual."
"At the end of the day, it was a man wearing a dress and makeup, and there's nothing inherently sexual or inappropriate about it… there's nothing inherently sexual about queerness, and if you think that, you're the problem," said protest organizer and MHS junior Hannah Boisen in an interview with Cardinal Chronicle reporter Lalaina Ratsimihah.
Organizer and MHS junior Isaiah Chang found this protest to be especially important considering recent homophobic legislature that has been passed, notably the Don't Say Gay bill in Florida. 
"It is important that we as a community empower teachers who do say gay and empower students," they said.
MHS junior Hannah Nygard agreed with this sentiment in a statement on behalf of Sexuality And Gender Equality (SAGE) Club: "It is more important now than ever for the MCPASD administration, staff, and student body to come out and fully support its [sic] LGBTQ+ students and staff."
Kashdan thanked the student body and administration for their support.
"The response from students has been amazing," he said. "I am truly grateful for all of the messages of positivity and support that I have received.  I am also grateful to Principal Shoemaker and the rest of the MHS administration who have been on my side since this all started."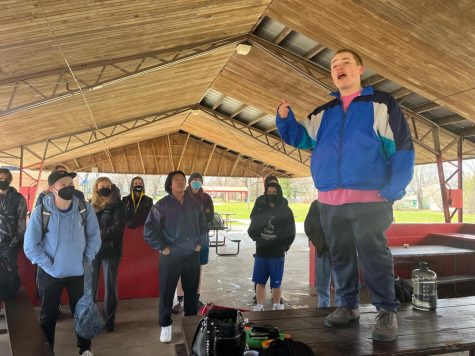 Chang stated that the protesters' goals are to enact "real change" by ensuring that no student voices are suppressed. They also want Principal Shoemaker to "be on the side of the school, not on the side of [the] media and hateful parents."
Many students were disappointed by a "lack of clear response from the school," said Nygard, referring to an email sent to MHS families on April 13. The email was written by MCPASD administrators including Principal Shoemaker and Superintendent Monogue. It discussed their new vetting process for staff FAW performances, along with Kashdan's resignation, which was finalized weeks before FAW. The email did not include a statement acknowledging the LGBTQ+ community.
"Unfortunately, the school and public response to this performance has been both distressing and traumatizing for many of our LGBTQ+ students," Nygard said on behalf of SAGE.
Superintendent Monogue was contacted by a few LGBTQ+ staff members after sending the email.
"They just let me know… some unintended consequences of the message," she said. "One way that folks perceived that message was one of a lack of support in the community, and that was certainly not our intention whatsoever."
Following this meeting, Monogue sent an email to MCPASD staff members encouraging them to support LGBTQ+ students. Shoemaker also sent her own email to students to express her support to the LGBTQ+ community.
In addition to calling for administrative support, organizers called for action on an individual level.
"You need to actively support your community when you can," said Boisen. "Whether that be the students or the teachers, when you see injustice, you need to stand up and you need to do something about it to help your community."