Spicy Ramen Challenge 2022: A Flaming Success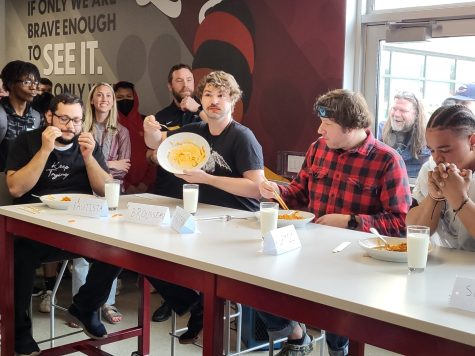 Students were not the only ones sweating during AP exam week this year. Five staff members felt the burn at Middle Eastern and Asian Student Union's (MEASU's) third annual Spicy Ramen Challenge on May 6, 2022, bringing the competition back after a year off due to COVID-19. 
During the week leading up to the challenge, MEASU members set up shop at a table outside the athletic office during the lunch hour, collecting donations for the twelve staff members who agreed to participate in the fundraiser. Student donations determined who participated, and the five staff members who received the most donations competed in Friday's challenge, a race to eat a bowl of spicy ramen the fastest. 
This year, the funds raised went to support Uighur Muslim refugees, a persecuted ethnic and religious minority living in the Xinjiang region of China. The Chinese government currently has Uighurs under surveillance and restricts their movement, and it has relocated between 1-3 million to "re-education camps," detention centers where survivors report being raped, shackled, separated from family members, used for organ harvesting, and forced to consume pork and alcohol. China also exploits Uighurs for forced labor. 
In what the US has called genocide, China is also encouraging intermarriage between Han Chinese, the majority ethnic group, and Uighur people; supporting immigration of Han people into Xinjiang; indoctrinating youth; and sterilizing Uihgur women, all of which are attempts to reduce the Uighur population. Many Uighurs who escape flee to Turkey, and the country is unable to support all of the refugees.
MEASU's membership voted for Penny Appeal's Uighur Emergency Fund as the cause for the 2022 Spicy Ramen Challenge, and all donations from MHS will go toward Penny Appeal's medical care, food, and legal aid for Uighurs in Turkey. 
The Spicy Ramen Challenge raised a record $399.40 this year, more than double the proceeds of previous years. MEASU's four co-officers attributed this success to the new donation goals and to Principal Shoemaker's involvement. 
Donation goals were new this year. Once total donations met the set amounts, MEASU added more heat to each bowl of ramen on top of the club's tradition of doubling the flavor packets. At $20 raised, they added black pepper; at $25, a sprinkle of red pepper flakes; at $50, they drizzled on Cholula; at $75, wasabi; and at $150, they added The Last Dab, a hot sauce with over 2 million scoville units. 
Principal Peg Shoemaker, Math Teacher ErnestoBautista, Campus Support Saygo Henderson, Math Teacher Marc Brousseau, and Social Studies Teacher Andrew Hartman braved the bowls of spicy ramen as the five staff members with the most donations, respectively. Shoemaker topped the list at $57.28 and Hartman brought in a strong $29.67.
The cafeteria filled with students during second lunch on May 6 as onlookers tried to get good vantage points of the competition. Students crowded around the high-top table where MEASU had set places: alarmingly large bowls awaiting ramen, tall glasses of milk, chopsticks, and forks. 
Many of the teachers volunteered for the challenge for reasons that expand beyond their love of spicy food.
 "I think it's a really good cause," Brousseau said. "I think it's really great that [MEASU is] raising money… It seemed like a fun way to participate and support the community." 
For many students and staff, the challenge was the first school event that really built community in the school. Many of the school spirit activities that typically take place during Homecoming week were canceled due to a tragedy that happened in October. In addition, many activities were canceled last year due to the virtual and hybrid model of instruction due to the COVID-19 pandemic.
"There's not that many things this year where staff and students were really an active community together," said Brousseau "It feels like there's a pretty big wall up, probably because of COVID. This will be an opportunity to break that."
As the staff members geared up to eat and braced themselves for a dose of indigestion, School Resource Officer Kenneth Chung announced that Shoemaker would not be able to make it, which was met by the crowd with an outcry of disappointment. A few minutes later, as the competition was about to begin, Shoemaker appeared, put on a garbage bag poncho, and took her seat at the competition table amidst roaring applause.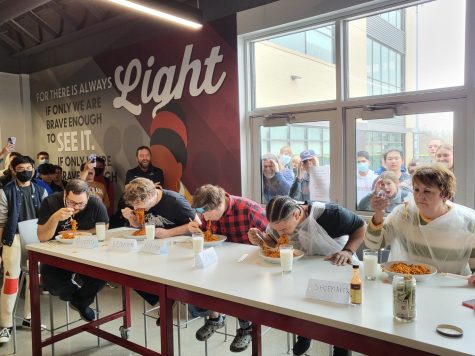 Then the competition began. Bautista, Brousseau, Hartman, and Saygo sunk their forks and chopsticks into their bowls and began shoveling ramen into their mouths. Shoemaker took a more measured approach, taking a few small bites at a time to avoid the heat. 
At first, no one felt the heat as the staff members shoveled bite after bite of ramen at a medically inadvisable speed. Seconds later, The Last Dab must have hit as faces flushed red and the pace slowed. Nearly halfway in,Shoemaker took a sip of milk, an automatic disqualifier, and swapped out withChung. Meanwhile, Bautista pulled slightly ahead of the pack despite the pain evident on his face and forged strongly into the second minute.
In the final stretch, the leaderboard took a turn as Brousseau powered through his last bites, claiming the title at 2 minutes and 12 seconds. He met the eyes of his teary-eyed competitors with a smile and a clean plate.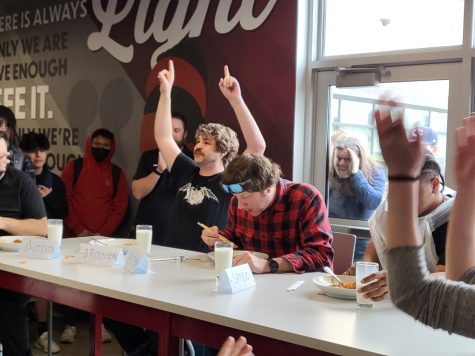 Hartman, who has a history of outdoing the competition by adding extra hot sauce, continued enjoying the last bites of his ramen while his competitors quickly downed their glasses of milk. The true discomfort of the heat quickly set in for all competitors as the crowd dispersed. Some participants made for a quick exit while others stepped outside for relief in the fresh air, escaping the pungent wafts of hot sauce pervading the cafeteria. 
Before the competition, Brousseau was a little apprehensive. "I can do spicy food, but this seems to be quite spicy," Brousseau said. Although he won, his concern is still warranted. Fortunately, MEASU rewarded his efforts with an ice cream party to his advisory to cool off after taste bud trauma. 
MEASU is proud that the Spicy Ramen Challenge is an engaging event for the entire student body, but in the end the event's purpose is to bring awareness to Middle Eastern and Asian causes. The Co-Officers explained that fundraising and spreading awareness are some of the most impactful actions the club can take as a student union. Now that the Uighur genocide has mostly fallen out of the news cycle, it has been difficult to inform others about the crisis, but the club prides itself on bringing attention to undercovered topics like this one.
MEASU aims to do more to build awareness about lesser-known issues both nationally and internationally. They look forward to continuing the Spicy Ramen Challenge for a fourth time in 2023, and they hope to get the student body more involved in other club events and campaigns throughout the year.