New Music Monthly: April 2023
April was a big month for both new indie artists and long-standing, popular groups. Many artists released projects, small and big, and Madison saw lots of local performances. Some artists even announced tours, so there is a lot to look forward to in the coming months. 
Alix Page
Rising indie-pop singer/songwriter Alix Page released her sophomore EP, "Goose," on April 14. This is Page's largest project yet, with five songs, each having a very different sound. The title track, "Goose," is a joyful, upbeat pop tune about friendship. "Automatic" and "4Runner" were the leading singles, and you can read more about them in past publications of New Music Monthly. 
"How Could I" is the fourth track, and shows a distinct maturity from Page's last release. Comparable to Phoebe Bridgers or Taylor Swift, this song lets Page's songwriting shine with very minimal instrumentation. Each verse tells a short story, leading seamlessly into the unanswered question in the chorus: "How could I?" 
"Toothache" shows Page's growth as a songwriter as well. This mellow indie song builds up as it progresses, until the bridge, where she reveals that "all I do is want you back." 
This song is known by fans as a reprise of Page's 2022 single "Pulling Teeth." Page wrote "Pulling Teeth" after a conversation with a partner where they admitted that it felt like pulling teeth to make their relationship work. The song is about loving someone more than they love you and having to let them go despite how badly you don't want to. 
A week before the release, Page played a show at UW-Madison's Memorial Union. It was a short 60-minute acoustic set, played with bandmates Caleb Tischbern and Andrew Pham, whom she met as a freshman in high school. The three have been playing music together ever since then and collaborated on "Goose." 
MUNA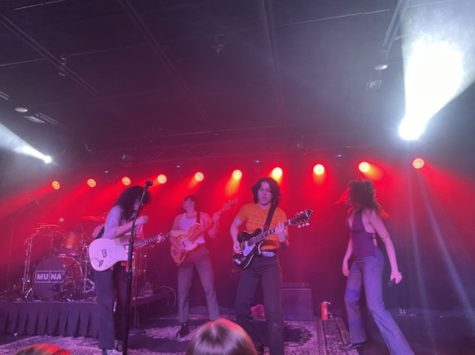 In April, Los Angeles-based band MUNA released their first single since their third record was released last June. MUNA is an indie band who met over a decade ago at the University of Southern California, consisting of lyricist and singer Katie Gavin, guitarist Josette Maskin and producer and multi-instrumentalist Naomi McPherson.
They have gained many fans in the LGBTQ community, as all three members identify as queer and McPherson is non-binary. When they debuted the new song, "One That Got Away," at the Coachella music festival, Gavin stated that this song is about "somebody fumbling the bag." The song also came with a vengeful, crime-focused music video. 
Kevin Atwater
Singer/songwriter Kevin Atwater released his first project, "Downer's Grove," on April 26. The EP tells the story of Atwater's adolescence in chronological order. It begins at age 12 and ends when he is 20. 
Atwater has amassed over 100,000 followers on TikTok for his raw, storytelling lyricism. Many of his listeners resonate with him because of how honest his songs are. His stories and experiences are unique, but his production choices make the songs feel familiar and comforting. 
Beabadoobee + Clairo
A few months after indie-pop artist beabadoobee (stylized in all lowercase) released her hit song "Glue Song," she announced that she would be releasing an alternate version with singer/songwriter Clairo. The track is a mellow love song, with simple acoustic guitars and airy vocals blending together beautifully. Both artists have big tours coming up, with beabadoobee opening up for Taylor Swift's Eras Tour and Clairo performing alongside bands like boygenius and Dijon at the Re:Set concert series. 
Tiny Habits
Acoustic trio Tiny Habits released their debut EP "Tiny Things." Maya Rae, Cinya Khan and Judah Mayowa have been sharing music on social media since 2021, after becoming friends at Berklee College of Music. Fans were immediately drawn to their re-arranged versions of popular songs with addicting harmonies and simple acoustic guitars. 
Tiny Habits will be opening for Lizzy McAlpine in Europe, as well as playing their first headline tour throughout North America this summer. Their EP consists of six songs, three of which had been previously released. The EP holds true to its name with minimal instrumentation, mellow production and three-part harmonies at the forefront. 
Lizzy McAlpine
Indie-folk songwriter Lizzy McAlpine released a reimagined version of her hit song, "ceilings," along with a cover of "A Little Bit Of Everything" by Dawes. The double release was recorded at Spotify Studios with just a synth piano and an acoustic guitar. This release came just before the first show of McAlpine's "The End of the Movie" tour. From April to June, she will be playing eighteen shows across the U.S. and an additional seven in Europe.