The Best Fast Food French Fries in Middleton
Fries are an American standard, served at school lunch, restaurants, barbecues, and family dinners. Because they're so common, they must be hard to mess up, right? We wanted to know if someone really could mess up the classic french fry. While we could have reviewed and rated many different foods or restaurants, we thought to ourselves, "Hey, we're American. We consume fast food like no other country; therefore, our citizenship alone practically makes us perfect for reviewing something of fast food in nature. But what item is easy on our stomachs (and bank accounts) that MHS students love to eat? Fries!" 
So last week with our bellies rumbling and our gas tanks mostly full, we drove to four different restaurants, taking in all the not so scenic sights. At each restaurant, we bought french fries and ranked them based on three categories: Flavor, Texture, and Appearance. We used a rating scale of 1-10; however, we agreed that we couldn't use whole numbers because that would make it a "rookie score."
Here's what we found.
Culver's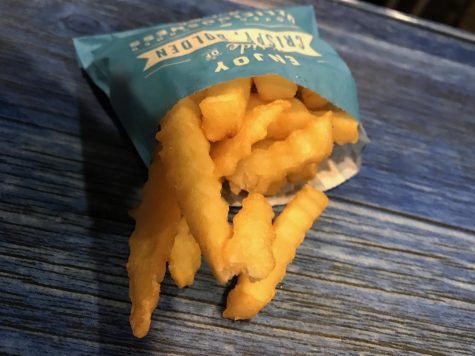 Jack's rating: 
Flavor: 6.1
Texture: 7.3
Appearance: 5.5
Overall: 6.3
Jack's explanation: Culver's fries look like the chef went a little crazy with the potato cutter.  The fries have a sad smushy appearance (ala the Bully Burger at Burger King), but the looks are deceiving. The texture is very appealing and extremely fluffy, however, the fries lack a satisfying crunch that is a signature of a fryer. I also believe that somewhere along the way, the employees forgot to salt our fries because although the taste was adequate, they lacked any hint of sodium.
Overall, these fries are a solid choice if you can get past their ugly appearance, and don't forget to BYOS (Bring Your Own Salt).
Aaron's rating: 
Flavor: 6.8
Texture: 7.1
Appearance: 6.7
Overall: 6.9
Aaron's explanation: These fries are consistent, tidy, and they're okay-tasting but not amazing. The crinkle cut texture added some much-needed excitement to the fry, as its significant absence of salt was duly noted. The outside and inside were mostly soft, but the inside tasted somewhat like mashed potatoes. The fries lacked crisp or crunch, except on the ends of some fries (they may have been a tad overcooked). The outer has this sort of cartoonish look to it as they are the goldest french fries I have ever seen, but they are precisely how Culver's describes it, "potatoes cooked to a golden brown." 
These fries are good but are better off being eaten in combination with a burger or shake.
Five Guys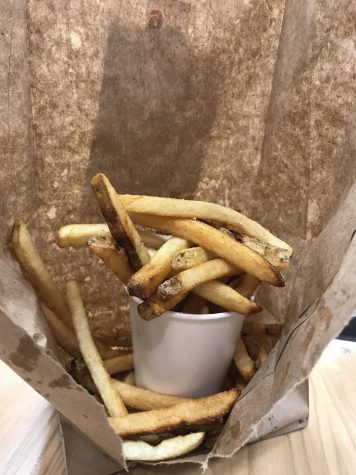 Jack's rating:
Flavor: 7.5
Texture: 7.9
Appearance: 6.7
Overall: 7.4
Jack's explanation: Well, now I know where all the salt from the Culver's fries went: Five Guys. The flavor of these is by far the best (and that's reflected in the price!), with the exception that I consumed my sodium intake for the next month in one sitting. These fries are fluffy, crunchy, and hot– although some were sopping with oil, and clearly spent a little too much time in that peanut oil hot tub of theirs. My favorite part of these fries was that the potato skins were left on some of the fries, adding greatly appreciated earthy potato flavor, unlike any other fry we tried. The skins also reassured me that real potatoes are actually used in making these french fries.  
I don't know who these five men are, but five brains sure are better than one when it comes to making fries.
Aaron's rating: 
Flavor: 8.2
Texture: 7.4
Appearance: 7.1
Overall: 7.6
Aaron's explanation: While your hands will likely be slathered in grease after eating them, these fries are well worth it. The first few fries I ate were a little too hot, which overwhelmed the flavor, but once the temperature cooled, the flavor shined. There was some inconsistency with the fries, as some fries tasted as if they had just been soaked in all of the salt in the Dead Sea, and others didn't have a single piece of salt on them. You could taste the oils and grease, but it didn't make the fry seem heavy; instead, these added some nice flavor. The appearance within the bag was not the best; however, I did like how the take-out bag had grease soaking through as the haphazard appearance fit well with the sloppiness of the fries' grease and oils. 
These are an excellent option all around, but you'll definitely need to wash your hands after eating them.
Hardee's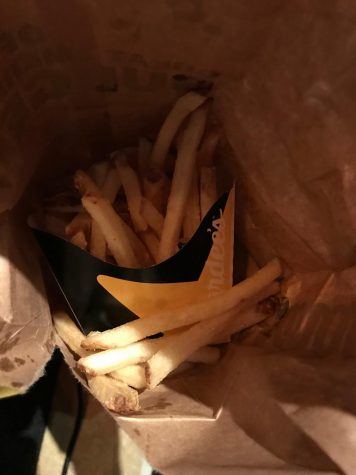 Jack's rating:
Flavor: 4.9
Texture: 5.1
Appearance: 6.6
Overall: 5.5
Jack's explanation: Perhaps the most handsome fries we saw, what Hardee's fries have in appearance is certainly not reflected in their taste. They have no real potato flavor, and the only taste that really comes through is a strange salt flavor, similar to the sweaty aftertaste of a hard workout. I've heard of putting your heart and soul into food, but bodily fluids too? That said, these are the some of the crunchiest fries we tried, and don't have the graininess of the McDonald's fries.
Hardee's fries are mediocre with no real flavor but a good appearance and decent texture.
Aaron's rating:
Flavor: 3.7
Texture: 3.9
Appearance: 6.1
Overall: 4.6
Aaron's explanation: Why did the cashier recommend that we order the fries to-go instead of eating inside the restaurant? How can a fry look sort of good but taste terrible? Why does the salt taste strikingly similar to human sweat? Why is my mouth so incredibly dry after eating just a few of these fries? Why is the aftertaste so strange? What are the ingredients in these fries?
These fries left me with too many questions, and I'm probably better off not knowing the answer to them.
McDonald's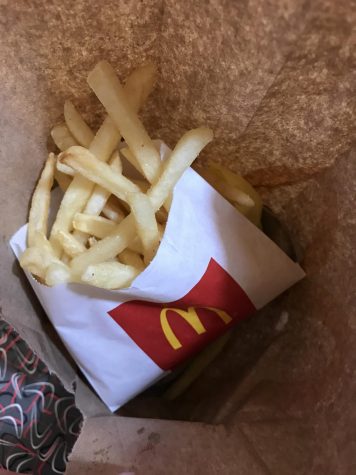 Jack's rating:
Flavor: 6.4
Texture:  5.4
Appearance: 5.1
Overall: 5.6
Jack's explanation: These fries look like the Culver's fries went on a diet. They used to be fat and plump with a fluffy inside and lots of curves. Yet after a hard workout regimen and some inspo from their favorite fry celebrities, McDonald's fries have become super skinny and trim, with hard angled corners and a brittle inside. They have a satisfying taste (think *classic fry*), yet their form factor is very displeasing with fries almost as small as pretzel rods, and an inner consistency of sand.
These fries are totally acceptable, but before you buy McDonald's fries, maybe hit the gym. After all, you are what you eat, right?
Aaron's rating:
Flavor: 6.8
Texture: 5.4
Appearance: 4.9
Overall: 5.7
Aaron's explanation: Iconic. Classic. Amazing. These are all words that I have heard people use to describe McDonald's french fries. For years, people hyped these up as being the best fry, yet they failed to exceed my expectations. The words that more accurately describe the fries are thin, salty, and plain. These fries were saltier than others, and they were thin, maybe a little too thin, but that's what you should expect with McDonald's. The fries have a minimal yet satisfying crunch to them, all while having a soft inside. They also have that classic American fast food french fry look to them, but they have a yellow-white color that doesn't look too appealing.
McDonald's fries are McDecent, but it definitely shouldn't be so many people's "favorite french fry."
Best Fast Food Chain French Fries Ranking 
To determine the french fry rankings below, we averaged our overall scores for each restaurant.
Five Guys, 7.5

Culvers, 6.6

McDonald's, 5.7

Hardee's, 5.1
After carefully tasting and rating the french fries, we were able to formulate the rankings for the best fast food french fries in Middleton. Five Guys is the only place where it would be acceptable to go for just the fries, while you should avoid Hardee's fries at all costs. Culver's and McDonald's are both viable options, but you should only eat their fries if you're also ordering a meal, ice cream, or shake.
Hopefully, you're now aware of what fast food chain in Middleton you should go to for the best fries (and which ones you should stay away from). However, our primary hope is that now nobody else will ever have to go through the grueling and sickening process of eating over 1,300 calories in french fries in under two hours.

Loading ...